Monday, May 6, 2013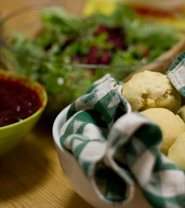 Bon Appétit Management Company—a food service provider committed to sustainable practices, culinary innovation, and creating food made from fresh, local ingredients in a socially responsible manner—will be Hampshire College's partner in its Healthy Food Transition, President Jonathan Lash announced May 6.

Hampshire selected Bon Appétit following an extensive process to identify the food service provider that could best assist in its aspirations for provision of healthy food, connecting the campus farm to the curriculum, maintaining the College's reputation as a thought leader in sustainable innovation, and linking the wider agricultural community beyond Hampshire's campus to its ongoing and daily food service operations.

Bon Appétit will become Hampshire's new food service contractor on June 1, and has extended an offer to current dining service employees to continue working at the College (at their current wage rate or better and keeping their seniority).

Bon Appétit will work with Hampshire over the summer and during the next academic year on collaborative plans for purchasing products from the Farm Center and creating exciting, new dining spaces, President Lash said in making the announcement.

The campus community is invited to meet with the food service selection committee on Thursday, May 9, at 3:30 p.m. in West Lecture Hall to learn more about the transition to Bon Appétit Management Company. The committee has urged anyone with questions about the transition to attend this community meeting. The committee includes Vice President for Finance and Administration Mark Spiro, Sustainability Initiative Director Beth Hooker, and Hampshire graduate Howard Wein 93F, whose company Howard Wein Hospitality is a hospitality advisory and venture firm.

Hampshire's Healthy Food Transition is the first step in a sustainability initiative that will help integrate food, farm, operations, and curriculum, and build a campus culture of sustainability. Implementation of the sustainability initiative is being supported by a $1 million gift from Hampshire graduate Gary Hirshberg 72F, cofounder and chairman of Stonyfield Farm.

Hampshire aims to change the enterprise of producing, preparing, consuming, and managing food on campus. In addition to serving the campus community, food will be used to teach students, communicate values, and experiment with new models that may help solve global resource challenges.