Monday, August 5, 2013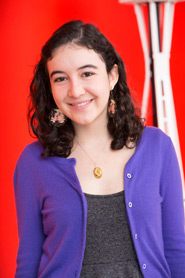 Hampshire College student Luna Goldberg 12F is interning with the Norton Museum of Art in West Palm Beach, Florida, this summer. Along with three other interns, Goldberg worked with the Norton education and curatorial departments to create an exhibition, Little Boxes: Vernacular Architecture from the Collection, which opened August 1 and will be on view through October 17.

The exhibition "explores the dynamic between interior and exteriors spaces in rural and urban homes," Goldberg said. The exhibition features photographs, oil paintings, and a mixed media dollhouse, with work by artists such as Ansel Adams and Norman Rockwell.

Aside from the exhibition, Goldberg said she has "gotten to view the inner workings of a museum." She gives tours to summer visitors, researches works of art in the museum collection, contributes to the education programs, and visits neighboring arts institutions.

Goldberg, who transferred to Hampshire in 2012, is currently working on her Division II project. "For my Division II, I'm studying the link between psychology and visual arts," she said. "I'm focusing on the psychology of creating a space, and how people navigate through spaces, particularly how you can manipulate the way people see a space by object placement."

Goldberg's Div II committee consists of Visiting Assistant Professor of Art/Sculpture Design Nathaniel Cohen and Professor of Clinical Psychology and Dean of the School of Critical Social Inquiry Annie Rogers. Goldberg credits Rogers' class Meeting Lacan: Through the Arts, On the Couch, and at the Farm with piquing her interest in psychoanalysis. "Annie really encouraged us to take elements of psychoanalysis and make it our own," she said.

Goldberg appreciates the interdisciplinary approach to education at Hampshire College. "Something I love about Hampshire is the open nature of the curriculum," she said. "No matter what, you can find a link between disciplines. I feel like every semester I discover new ways of bringing different subject areas together."