Thursday, August 15, 2013
A leader in the regional food movement, Diego Angarita 04F will be the keynote speaker at Hampshire's opening convocation on Tuesday, September 3, at 4:30 p.m. in the Robert Crown Center. Anyone who would like to attend is welcome.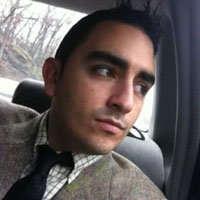 Angarita is assistant executive director of Nuestras Raíces, a grassroots organization that promotes human, economic, and community development in Holyoke, Massachusetts, through projects relating to food, agriculture, and the environment.

Other scheduled speakers include President Jonathan Lash, Dean of Students Byron McCrae, and Vice President of Academic Affairs and Dean of Faculty Eva Rueschmann.

Angarita has worked, through the Holyoke Food and Fitness Policy Council, with city officials, community gardeners, farmers, and consumers. In those collaborations, the goal is identification of policy shifts that help to support urban agriculture work, farm to school initiatives, and support for local markets to supply fresh produce to SNAP (Supplemental Nutrition Assistance Program) recipients.

He developed a youth leadership development program for Nuestras Raíces that teaches teenagers about Puerto Rican history and culture, agriculture and environmentalism, healthy eating, and food policy. He is active in numerous community organizations and advisory boards, including the sustainable energy cooperative Co-op Power (vice chair), the Hampden County Department of Transitional Assistance, the Massachusetts Food Policy Alliance, and the Holyoke Youth Taskforce strategic planning team.

Angarita has been brought into food systems strategic planning conversations by Food Solutions New England, Project Bread, the Kendall Foundation, Policy Link and the Funder's Collaborative on Youth Organizing as well as the organizing committee for the Northeast Sustainable Agriculture Working Group.

He is a graduate of Hampshire College.