Friday, August 30, 2013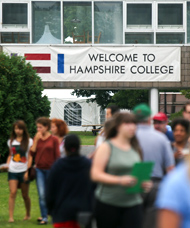 Hampshire welcomed 398 first-year students, 76 transfers, and 19 visiting and non-degree students on opening day August 29.

Our new students come from 37 states and 16 countries including Argentina, Brazil, China, the Czech Republic, England, France, Germany, India, Japan, Malaysia, Myanmar, Nepal, Peru, Spain, Switzerland and Vietnam.

The top ten states represented in their numbers are Massachusetts and New York (with 85 students each), California, Connecticut, New Jersey, Pennsylvania, New Hampshire, Maryland, Vermont, and Maine.

A quarter are students of color or international students, and another 11 percent are dual citizens.

Fifty-nine percent speak or have studied 29 different languages, from Afrikaans to Arabic, Bai to Burmese, Hebrew to Hindi, Kannada to Korean, Persian to Portuguese, Romanian to Russian, and Telegu to Tibetan.

Forty-seven percent have participated in athletics, from basketball to ballet, crew to cross country, fencing to field hockey, poi to powder puff football, sailing to squash, snowboarding to softball, tai chi to tennis, and water polo to weightlifting.

They are musicians, DJ's, and writers. Actors, organic farmers, and pilots. Poets, filmmakers, and activists. Over half have held a significant leadership position.

Drilling down to the individual level, they:

Carve stone. Build guitars. Raised $13,000 for Haiti Relief through a production of The Tempest. Created artwork for an iTunes album. Founded a feminist club and a feminist zine. Founded a company to buy and sell things on eBay. Grew up herding yak in Tibet. Participated in the National Outdoor Leadership School. Volunteered in Tanzania. Won photo contests. Wrote and acted in an Off Broadway musical. Developed apps for the iPhone. Are working on a pilot's license and a helicopter license.

Have performed at Carnegie Hall. And Lincoln Center. Sang with the Chicago Children's Choir on Oprah and in a flash mob with Yo Yo Ma. Captained a chess club that won three state championships.

Volunteer for a prison book project. Testified before the California Assembly in support of a bill mandating sexual health education (the bill passed!). Started an apparel company. Manage restaurant kitchens. Performed in Zimbabwean marimba ensembles. Worked as a goat and cow milker. Built a 6-foot sculpture of the Empire State Building out of recycled metro cards. Studied circus arts. Went on an archeological dig in Israel. Appeared on the Today Show about a one-woman show they wrote and performed in New York City.

Taught English to Burundian refugees. Worked at an Amazonian conservation site in Peru. Produced a film that won best documentary at the Toronto Film Festival. Sang on NBC and performed at St. Peter's Basilica in Rome. Placed in national figure skating competitions.

Collect armadillos. Were a fellow at Tribeca. Won the Vermont Spelling Bee. Medaled in Scottish Highland Dancing. Founded an experiential learning school for migrant workers in China. Were a lab assistant working on malaria protein crystallography. And one is donating a kidney to a friend.

This is a class that most definitely belongs at Hampshire! They are seekers of knowledge and agents of change.