Tuesday, September 3, 2013
Dear friends,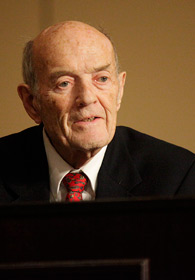 It is with great sadness that I write to inform you of the death of David E. Smith, professor emeritus of English and American Studies. David died Friday, August 30th, at 87 years of age. He and his wife, Priscilla, had just celebrated their 55th wedding anniversary.
As many of you know, David was one of Hampshire's founders, joining the faculty in 1970. He was tremendously influential in shaping the College's pedagogy and curriculum, and in particular was a champion of interdisciplinary and collaborative teaching and research. David is credited with helping to create the field of American Studies, and when he came to be part of the fledgling experiment that was Hampshire, he left behind his tenured position as Chair of the graduate program in American Studies at Indiana University, one of the country's premier programs. David, Priscilla, and their young family immersed themselves in the life of the College, with David serving as the first master of Merrill House.
David was a beloved mentor to both students and younger faculty members. I only got to know him and Priscilla recently, when they returned to campus to attend Division III presentations by students who received funding under the David E. Smith Endowment Fund, which was established by former students in his honor. Even with this brief experience, I find myself feeling a deep sense of loss, and my heart goes out to Priscilla, to David and Priscilla's children Eric, Sarah, Miriam, and Wilhelmina, and to the extended community of family and friends who held him dear.
Below is the obituary provided to us by David's family. We will keep you informed about plans for a memorial celebration at Hampshire College.

Jonathan Lash
President
---


Professor David E. Smith of Walpole, Maine, formerly of Amherst, Massachusetts, passed away on Friday, August 30, at Miles Memorial Hospital in Damariscotta, Maine. David was born May 5, 1926, in Boston, a son of Robert Whitelaw Smith and Mary Jane (Wallace) Smith.

After graduation from Mount Hermon School (MA), David entered the service in WWII as an aviation cadet in the V-12 program. He graduated from Middlebury College under the G.I. bill. After completing Master's and Doctoral degrees at the University of Minnesota, he joined the faculty at Indiana University where he helped to establish and chaired the graduate program in American Studies. He is the author of "John Bunyan In America", an editor of "The MacMillan Anthology of American Literature," and author of many scholarly articles. A grant from The Society for Ethics in Higher Education provided support for his post-graduate work at Yale University's Divinity School.

In 1970, David became a founding faculty member at Hampshire College. He was instrumental in helping the College develop its experimenting curriculum, unique pedagogical structures, and divisional system. He taught classes in English and American Studies, courses on the American Landscape, Native American cultures, Women's Studies, and Nature/Nature Writers. He served as Dean of the School of Humanities and Arts for ten years and guided the school in the establishment of interdisciplinary academic departments and collaborative faculty partnerships. David deeply enjoyed music, building harpsichords, and exploring German history and culture.

David is survived by his wife of 55 years, Priscilla Riley Smith, and his four children: Eric Smith and wife Kali of Savannah, Georgia; Sarah Letsky and husband Bill of Andover, Massachusetts; Miriam Smith and husband Michael Acton of Acton, Massachusetts; and Wilhelmina Smith and husband Mark Mandarano of St. Paul, Minnesota; and nine grandchildren. He is also survived by his sister-in-law Henrietta Smith of Cape Elizabeth, Maine, and several nieces and nephews.

If friends wish, memorial gifts in David's name may be made to The David Smith Endowment Fund at Hampshire College (c/o Cheri Butler, Hampshire College Office of Institutional Advancement, Hampshire College, Amherst, MA 01002) or to Salt Bay Chamberfest (www.saltbaychamberfest.org, P.O. Box 1268, Damariscotta, Maine, 04543).

The Smith Family invites you to honor and celebrate the life of David E. Smith on Saturday, September 14, 1-5 p.m. for an Open House at the Smith farm in Walpole, Maine. We hope to collect your written remembrances of David, prose or poetry.