Tuesday, September 10, 2013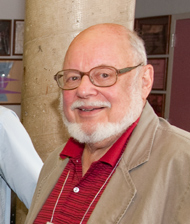 A new documentary on Norton Juster's children's book The Phantom Tollbooth will have its world premiere at the New Yorker Festival on Sunday, October 6. Juster, professor emeritus of architecture and environmental design, taught at Hampshire College from 1970 until his retirement in 1992.

The Phantom Tollbooth: Beyond Expectations traces the friendship between Juster and Pulitzer Prize-winning illustrator Jules Feiffer while exploring the imaginative world Juster created and the deeper themes he addressed through it.
It is directed by Brooklyn-based filmmaker Hannah Jayanti and narrated by actor David Hyde Pierce.

"Conceived in Brooklyn during the Cold War 1950s, The Phantom Tollbooth is about much more than a bored little boy who travels through a tollbooth to the Lands Beyond to rescue princesses named Rhyme and Reason," she said. "In addition to capturing the playfulness of the book, the film illuminates its more serious themes, such as the value of learning, the state of children's literature, the creative journey, and the importance of the written word."

The screening will take place at 5 p.m. at SVA Theatre 2 at 333 West 23rd Street in New York City on October 6, and will be followed by a discussion with Juster and Feiffer led by New Yorker staff writer Adam Gopnik. Juster and Feiffer will also sign books that day from noon to 1 p.m. at McNally Jackson Books at 52 Prince Street.

For more about The Phantom Tollbooth: Beyond Expectations, visit www.phantomtollboothdoc.com.