Wednesday, September 25, 2013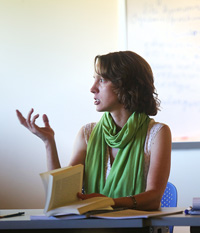 During one of her first classes at Hampshire, Andrew W. Mellon post-doctoral fellow in translation studies Corine Tachtiris asked her students their opinion of the ideal translation.

"Their answers were the opposite of what I expected they would say," said Tachtiris. "They wanted annotation, cultural and historical background, as opposed to it being just a good read."

That was as good an introduction as any to the academic interests and rigorous preparation Hampshire students can bring to the classroom, and an entry point into the discussion of varying approaches to translation. Tachtiris, who received her Ph.D. from the University of Michigan and an MFA in literary translation from the University of Iowa, came to Hampshire following a year as a postdoctoral teaching fellow at Kalamazoo College in Michigan, where she taught French language classes and translation.

During fall semester, Tachtiris is teaching the class Building Bridges, Burning Bridges: Literature and Culture in Translation. She noted that, while oftentimes translation studies are split between theory and practice, "for me those things can't really be separated." Her students, she hopes, will bring their own experiences into discussions of these different approaches to the field.

"I think they're extremely intelligent, well read, and articulate," said Tachtiris. "They're strong critical thinkers."

As part of her fellowship at Hampshire, Tachtiris will consult with faculty about how to bring translation into their own teachings, and she plans to organize translation-related events on campus. This includes bringing in a series of speakers in the spring as well as possibly working on a small symposium on translation. She also looks forward to team teaching with associate professor of Hispano literature Norm Holland in spring 2014.

"This is a great place for me," said Tachtiris. "There are a lot of people who are interested in translation in the Five College area. There are a lot of resources to draw from."