Thursday, October 3, 2013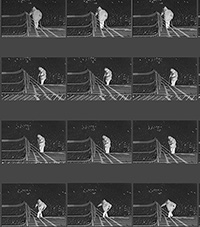 The Hampshire College Main Gallery will mount its annual Faculty Art Show from October 6 - 29.
The 2013 faculty exhibition includes new work by Bill Brand (photography), M. Naomi Darling (architecture), Andrea Dezsö, Thom Haxo, Jackie Hayden (photography), kara lynch (multi-media), Sara Greenberger Rafferty, Abraham Ravett (photography), and Daniel Kojo Schrade (painting). The curator for the exhibition is faculty artist S. Billie Mandle.

There will be a reception for the artists on Friday, October 18, 5 - 7 pm, in the Main Gallery. This event is free and open to the public.

Gallery hours are Monday-Friday, 10:30 a.m. - 4:30 p.m., and Sunday, 2-5 p.m. For further information, please email carnold@hampshire.edu.

Image:
Abraham Ravett's "The Year He Turned 74..."