Friday, October 11, 2013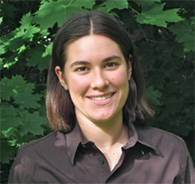 When the federal government shut down for the first time in 17 years, Abigail Carpenter-Winch 10F found herself in a unique position. Carpenter-Winch is currently interning for a United States senator as a Victory Congressional Intern, a program of the Gay and Lesbian Victory Institute, a nonprofit that supports openly gay, lesbian, bisexual and transgender (LGBT) public officials.

"It's a very exciting and overwhelming time," Carpenter-Winch says, noting the bittersweet nature of her circumstances. "There's a sense that something needs to happen, and everyone is focused on getting a solution and making sure that this does not continue."

Legislative issues have become Carpenter-Winch's focus since the shutdown. When Congress was active, her tasks included writing memos, conducting research, attending briefings and events, giving tours to visiting constituents, answering constituent calls and responding to voicemails, she says. "I've learned so much about how Congress works, just from being in the halls."

Carpenter-Winch is working on completing her Division II, which focuses on religious studies and women, gender, and sexuality studies. Her committee—Professor of Anthropology and Asian Studies and Dean of the Center for Academic Support and Advising Susan Darlington, Associate Professor of American Literature & Jewish Studies Rachel Rubinstein, and Professor of Comparative Religion Alan Hodder—has been "fantastic" to work with, she says.

"Hampshire lets students take charge of our education, build our own committee of advisers, and take the initiative to make the most of available opportunities. These are incredibly useful skills, and are very beneficial during my internship," she says.