Thursday, October 17, 2013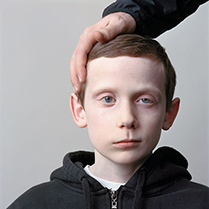 The photography gallery in Hampshire College's Liebling Center will feature photographer Sage Sohier's most recent project, "About Face," from November 1 through December 2. Gallery hours are 9 a.m. to 5 p.m. Mondays through Fridays and 1-5 p.m. Sundays.

For the "About Face" project, which was published in December 2012 as a book, Boston-based Sohier photographed people with varying degrees of facial paralysis, a condition that usually occurs on one side of the face.

Sohier will give a public talk about her work on November 14 at 4 p.m. in the Liebling Center.

Sohier's work is in collections including the Museum of Modern Art, Museum of Fine Arts (Houston), San Francisco Museum of Modern Art, Cleveland Museum of Art, and Brooklyn Museum. She has received fellowships from the No Strings Foundation, John Simon Guggenheim Memorial Foundation, National Endowment for the Arts, and Massachusetts Artists Foundation.

Artist's statement:
"When looking at someone with partial facial paralysis, we are in a sense seeing two versions of the same face at once, with each side conveying different emotions. As a visual artist, I find myself fascinated by the intensity of glimpsing two expressions simultaneously, a literal 'two-facedness' that mesmerizes by its terrible beauty. At the same time, I hope these pictures bear witness to the incredible courage required to deal with medical afflictions, especially when they affect one's primary appearance. Even minor facial problems challenge and potentially diminish a person's sense of self; the poise and inner strength that it takes to deal with this, while at the same time presenting oneself to the world, is remarkable."