Wednesday, November 6, 2013
Created and recognized for shaping bold new educational approaches, Hampshire College is expanding its calendar of academic programs to year-round and opening up opportunities to diverse learning communities.

A variety of summer academic programs based in Hampshire's approach of linking critical engagement to experience-based education are geared toward professionals and practitioners, advanced high school students, graduate students, and lifelong learners as well as undergraduates.

From the opportunity to participate in a film workshop with famed documentarian and Hampshire alumnus Ken Burns 71F to preparation for pursuing an international teaching fellowship, summer programs are built on Hampshire's innovative leadership in selected academic fields. The summer programs also give the College's faculty and staff a time to implement and develop innovative ideas and approaches.

In summer 2014, participants can pursue academic interests and intellectual passions in one of five programs: the Creative Media Institute; the Food, Farm, and Sustainability Institute; a TESOL Teacher Training Course; Designing Social Impact; and the Institute for Curatorial Practice.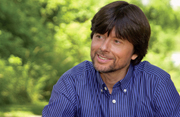 The four-week Creative Media Institute (July 13-Aug. 9) is structured as a series of pop-up labs and workshops. Ken Burns will lead a workshop, and other highly accomplished Hampshire graduates working in creative media are helping to develop this program in various ways, from advice on curriculum to direct involvement. The program is for emerging artists and professionals as well as credit-seeking college students. Participants will have close working access to leaders in the field as well as opportunities to develop their own creative potential.

Andrew Hart, director of the summer Creative Media Institute, said the model for the program points back to the original summer institute on film and photography held at Hampshire College in 1973, when Jerome Liebling, Hollis Frampton, Richard Leacock, and other luminaries led a series of short courses and workshops, and opened many screenings to the local community.

Each week of the Creative Media Institute offers a one-time-only cast of guest artists, the works they select to showcase, and the topics they choose to discuss. Only undergraduates who enroll for all four weeks will receive academic credit, given through their home institutions, but anyone (writers, filmmakers, producers, production professionals, academics) can apply to attend a given week, Hart said.

The Food, Farm, and Sustainability Institute began in 2012 as Hampshire's pilot summer program, and in 2013 attracted students from colleges across the country and internationally. The six-week (June 2-July 11) interdisciplinary program focuses on food production and sustainable agriculture. Students gain hands-on experience at the Hampshire College Farm Center and work with faculty on inquiry-based projects.

The TESOL Teacher Training Course provides a solid foundation for teaching English to speakers of other languages. The TESOL course (June 2-27) is designed for teaching professionals and students, many of whom are interested in pursuing Fulbright and other international teaching fellowships.

Designing Social Impact is an entrepreneurial program for advanced high school juniors and seniors. It's anchored in community partnerships and research methodology and will present real-world problems. Students start with an idea, then learn how to build and test it in the world. Two sessions will be offered (June 16-27 and June 30-July 11).

The Institute for Curatorial Practice introduces students to conceiving, developing, and designing exhibitions, whether actual, digital, or imaginary. From the history of collections and curating to contemporary practice and new media platforms, students will benefit from direct access to Five College and other area museum resources in this five-week course (June 2-July 3).

For more information, please email summer@hampshire.edu.