Wednesday, November 13, 2013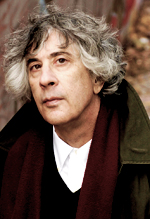 Michael Lesy and Lisa Stoffer, authors of Repast: Dining Out at the Dawn of the New American Century, 1900-1910, will speak on Thursday, Nov. 21, at 4 p.m.

Lesy, professor of literary journalism at Hampshire, and Stoffer, director of foundation and corporate relations at Amherst College, will speak in Hampshire's Harold F. Johnson Library, first floor. Admission is free and all are welcome.

Repast takes readers on a culinary tour of early twentieth-century restaurants and dining. Lesy and Stoffer provide a compelling look at America's appetite at the turn of the century, drawing heavily from primary sources including the Buttolph Menu Collection at the New York Public Library. Copies of the book will be available for purchase.

Michael Lesy is the author of numerous books, including Wisconsin Death Trip and Long Time Coming. He was named among the first U.S. Artists Fellows in 2006, and is a 2013 Guggenheim Fellowship recipient.

For more information, please contact Jimi Jones at jljones@hampshire.edu or 413.559.5761.