Friday, November 22, 2013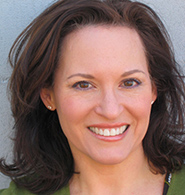 When Dédé Wilson 79F began her studies at Hampshire College, she struggled to decide what her passion was. She initially wanted to study journalism and writing, and then moved on to more science-oriented topics in her Division II. Finally, after taking a semester off, Wilson realized what she truly loved: food and baking. For her Division III final project, she studied restaurant management.

After she graduated from Hampshire, Wilson started her baking career as a pastry chef in Northampton. She started writing cookbooks and articles about food, tying together her enthusiasm for both writing and baking. Her second book caught the attention of Bon Appétit magazine, which contacted her and asked her to write for them.

Wilson also started to develop a web presence. She had her own website, but she wanted to branch out to an even wider audience. Having noticed that there was a sizable market of people looking for recipes on the Internet, she wanted to start a website that could be a more reliable resource—one where the recipes were made by professionals in test kitchens before going up online.

Bakepedia, the name for this new website, occurred to Wilson very suddenly. She says, "It was like it physically hit me—I literally cocked my head to the side."

In 2012, she began to concentrate more on developing Bakepedia. She worked with entrepreneurs in the Pioneer Valley through Valley Venture Mentors in Springfield. In doing this, she met a "vibrant, interesting community of people," including other members of the Hampshire community.

Bakepedia is only three months old, but it already has about 15,000 new viewers a month. The website has gotten attention from the Boston Globe and NPR.
Read article from Boston Globe >>

Wilson hopes to continue brainstorming with other Hampshire alumni on how to keep improving Bakepedia. With enthusiasm and hard work, she believes the website can stand out from other recipe resources. "This is an art and a science. It's very time-consuming and expensive," she says, "but I love it, and I couldn't imagine doing anything else right now."

As well as being a contributing editor for Bon Appétit, Wilson has written articles for Cook's Illustrated, FamilyFun, and Fine Cooking. She has made television appearances on shows such as Today, Live with Regis and Kelly, and The View.