Tuesday, December 17, 2013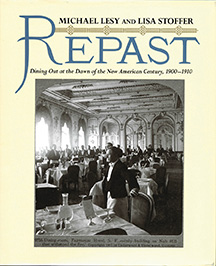 When Professor Michael Lesy sat down at his computer and clicked on a collection of menus from 1908, he found they "could conjure up the taste, smell, and sight of food that had been prepared, served, and eaten more than one hundred years ago."

Just as the menus made him think about the food, the food led him "to the people who had prepared it, served it, and eaten it."

Inspired by the beauty of those menus in the collection Miss Frank Buttolph compiled for the New York Public Library, Lesy and his wife, Lisa Stoffer, wrote Repast: Dining Out at the Dawn of the New American Century, 1900-1910, a recent release from W.W. Norton and Co.

Lesy is a professor of literary journalism at Hampshire College. Stoffer is director of foundation and corporate relations at nearby Amherst College. She comes from a family of chefs.

In Repast, Lesy and Stoffer take readers on a culinary tour of early twentieth-century restaurants and dining, offering a fascinating account of America at the dawn of "the new century."

Color plates from the Buttolph collection and black-and-white photographs from the era illustrate a book covering topics from the emergence of fast food to fine dining, from pure food legislation to the problems of finding work - and then suitable places to eat - that confronted women as they entered factories and offices in large numbers for the first time. A chapter entitled "Other People's Food" offers a counter-narrative to the familiar cliché that Americans at the dawn of the twentieth century were relentlessly xenophobic and anti-immigrant.

Repast tells new stories and provides insights into what and why our ancestors ate, making it clear that the American stomach (then and today) is reflective of the social, economic, demographic, and cultural world that surrounds it.