Tuesday, January 7, 2014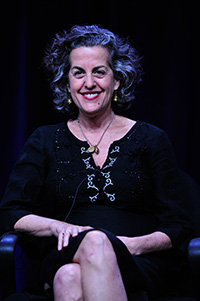 Aspiring musicians, take note: Nashville, known around the world as "music city," is the place where country, rock, folk, bluegrass, R&B, gospel, and blues artists go to launch their careers, according to Susan Wittenberg 70F. "Artists from all over the country come to live in Nashville," she says. "It's a fantastic city where young musicians can find a welcoming community."

Wittenberg recently directed and produced Nashville 2.0, a documentary on the burgeoning Americana music scene, a roots-inspired musical style that draws from a multitude of genres, from country to punk. The documentary's title refers to technology such as social media and satellite radio's role in the popularization of the modern-day brand of Americana music.

Nashville 2.0 premiered nationally on PBS in November.

Wittenberg describes her time at Hampshire in similar ways to what she observed in Nashville. "It was an incredibly supportive environment, in terms of the relationships students had with each other and the faculty. It was a privilege to have a pure liberal arts education and find out what you're most passionate about," she says. "Nothing is more important than having a really solid education, knowing history, and understanding the world you live in, and that's what Hampshire does so well."

Wittenberg, who was part of the first class at Hampshire, has worked in film and media in a variety of roles - producer/director of independent documentaries, writer/director of a low-budget comedy feature film, arts programming executive at Bravo, AETN, and Ovation TV networks.

Nashville 2.0 comes on the heels of another recent music documentary Wittenberg produced for PBS, Women Who Rock, a co-production with the Rock and Roll Hall of Fame. She is currently in pre-production on a film about the history of Columbia Records.
Photo by Rahoul Ghose