Thursday, January 23, 2014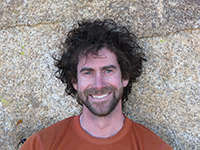 Samuel Singer 00F is launching Wyoming Stargazing, a nonprofit organization providing free public stargazing events, private stargazing events, and astronomy lectures. Singer, who recently earned a doctorate in science education from the University of Wyoming, says that he has started fundraising online, with the hope of raising enough money to build a large public observatory and planetarium.

Launching Wyoming Stargazing allows Singer to pursue his passion for teaching astronomy. "I get really excited and animated when I start talking about astronomy with people," he says. "There is just this mind-boggling immensity and mystery about space that has always captivated me."

Singer came to Hampshire intending to study creative writing and jazz, but saw his academics take a different route when he used an independent study to complete construction on a telescope he began building in high school. "It was that project that ended up being the spark for my Division II and III projects," he says. "That flexibility that Hampshire offers that many other schools look down upon, that freedom to make those changes when they're right for you is something I appreciated."

Singer's Division III (senior) project saw his ambition increase from building a telescope to building an entire observatory. "I used the observatory to study a binary star system," he says, explaining that research had already been conducted on that system by several professional astronomers.. When Singer's results matched those of the other studies, he could be sure that "the observatory was capable of conducting professional-level research," he says.

The observatory project, which was funded by grants, provided Singer with his first fundraising experience, a skill he is putting to use today with Wyoming Stargazing.
Learn more at http://www.indiegogo.com/projects/wyoming-star-gazing