Friday, January 24, 2014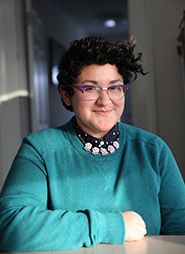 Hampshire College student Devyn Manibo 10F received the 2013 Princess Grace Awards' Undergraduate Film Scholarship.

The award, presented to Manibo at a ceremony in New York City, is given by the Princess Grace Foundation-USA to support emerging talent. Awards are presented in theater, dance, and film.

Manibo is using the award funds to purchase filmmaking equipment and pay for travel to the Philippines to capture footage for her Hampshire Division III (senior) project, a video installation for the islands i've lost/ for the islands i've never known: imag(in)ing home in a queer diaspora. The three-channel installation, Manibo notes, will explore her own identity as a Filipino American from New Jersey in a magical realist, experimental narrative.

"I'm trying to create visibility for types of identities I personally identify with, queer people of color. I like to find ways to collect our voices together, and find the space to do that," says Manibo, whose Division III faculty committee is video production professor kara lynch (co-chair), film and video production professor Jules Rosskam (co-chair), and media culture professor Susana Loza.

Hampshire alum Riko Fluchel 09F, a close friend of Manibo who shares her Filipino heritage and passion for filmmaking, accompanied Manibo to the Philippines in January 2014 thanks to the Princess Grace funds. His collaborative involvement, she notes, feels essential to the completion of her Division III work.

"We met in the Intro to Queer Theory course, and our Filipino background bonded us," says Manibo. "We lived together the next year, and explored what it means to inhabit a diasporic space and body, what it means to be queer Filipino mixed people. That became the center of what I'm doing now."

Hampshire has had a strong showing among the Princess Grace Awards film recipients in recent years. Erick Msumanje 09F received the award in 2012, while Josh Weissbach 04F won in 2009.