Thursday, February 6, 2014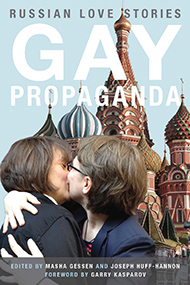 Through his new book, Gay Propaganda: Russian Love Stories, writer and political campaigner Joseph Huff-Hannon 97F decided to "create a document that mostly doesn't exist."

The collection of interviews, stories, and testimonials from LGBT Russians living both in Russia and in exile is a direct response to Russian legislation passed in June 2013 banning "propaganda of nontraditional sexual relations." With the Sochi Olympics drawing worldwide scrutiny on how the law affects the Russian LGBT community, Huff-Hannon worked quickly with his co-editor, Russian-American journalist Masha Gessen, to bring the book from a proposal in October to its February release by OR Books.

"I thought there was a really specific role a book like this could have," said Huff-Hannon, whose work has appeared in such publications as the New York Times, Advocate, and Huffington Post.

English and Russian print and ebook editions are being released during the opening week of the Sochi Olympics. The Russian ebook will be available for free on the OR Books website, as a means of combating the negative LGBT stereotypes Huff-Hannon said are prevalent in Russian media. Huff-Hannon also plans to distribute the print edition free to Russian LGBT groups.

"This ambition is measured. For someone [in Russia] to even read this book, they're taking a risk," he said.

Huff-Hannon is not the only Hampshire alum writing on this topic. Jeff Sharlet 90F's article, "Inside the Iron Closet: What It's Like to Be Gay in Putin's Russia," appears in the February 2014 issue of GQ.

Sharlet's article focuses largely on the dangers faced by the Russian LGBT community, while Huff-Hannon's book deals more with individuals trying to make relationships work in an increasingly hostile society (as well as the need of many to leave the country to preserve those relationships). It's work he feels Hampshire, and faculty such as sociology Professor Margaret Cerullo and emeritus economics Professor Stanley Warner, prepared him well for.

"I parlayed my Div III work into one of my first jobs as a researcher with some brilliant journalists on The Take, a documentary shot in South America. The experience made me want to work in journalism, telling edgy, provocative stories," he said. "That's something that's encouraged at Hampshire."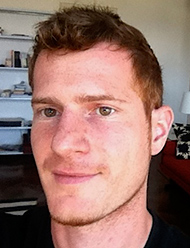 While Huff-Hannon finds it unfortunate that so much of the Olympic coverage has been turned from the athletes themselves to human rights controversies in the host country, he believes it may have an impact down the line.

"I hope one result will be that the IOC and other big global organizations realize that they can't just be blind to these issues," he said. "[Hosting an event like the Olympics] comes with a lot of responsibility, and brings a lot of scrutiny."