Tuesday, February 25, 2014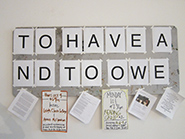 Leigh Claire La Berge 94F and Laurel Ptak 94F met on their first day at Hampshire College and have remained friends since. After graduating, Ptak devoted her career to contemporary art while La Berge earned a Ph.D. in American studies.

In 2011, the two Hampshire alums began work on a collaborative research platform and exhibition entitled "To Have And To Owe." Ptak and La Berge were inspired to work together based on their mutual interest in aesthetics and representations of economics. Ptak suggested pursuing the idea of debt, inspired by how other artists had been addressing economic issues during the financial crisis. La Berge was intrigued by the idea. "So many working artists and writers begin careers with debt," she says. "It's a very pressing issue." The activism of New York City groups including Strike Debt and the Occupy movement "made the question start to feel more urgent," says Ptak.

Ptak and La Berge tied together art, literature, and research in their project. This meant getting many people involved—including artists, academics, activists, and people facing massive debt in their day-to-day lives. "It was about getting together and trying to understand the abstract concept of debt through visual and artistic means," Ptak says. La Berge adds that the goal was to represent the idea of "owing something you don't have."

The exhibition's activities took place at the Elizabeth Foundation for the Arts (EFA) Project Space in New York City from Sept. 21 Oct. 27, 2012. Artists, activists, and community members gathered to participate in talks, performances, reading groups, and other activities to help each other understand the isolating feelings associated with the burden of debt.

The positive outcome excited Ptak and La Berge. Not only did they inspire significant conversations, but they also learned about the benefits of collaboration. With Ptak's background in art and La Berge's in criticism, they felt they had more to offer as a team than as individuals. They hope to work together again in the future.

Ptak is based in New York City, where she runs an artist residency program, curates exhibitions, and teaches and writes about contemporary art. She is co-editor of the book Undoing Property? (Sternberg Press) and was recently appointed executive director of the Triangle Arts Association.

La Berge is a professor of American literature at Saint Mary's University. She has written about the television show The Wire and has a book coming out called Scandals and Abstraction: Financial Fictions of the Long 1980s (Oxford University Press).