Tuesday, March 11, 2014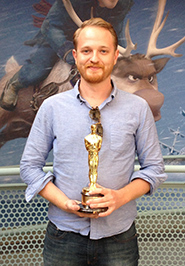 From an early age, Benjamin Fiske 02F knew he wanted to be an animator. Movies like Toy Story and TV shows like ReBoot introduced him to a world of 3D animation, which he became eager to learn about. His interest persisted through his experience at Hampshire College, where he studied computer animation. His Division III (senior project) focused on the history of animation, looking at animated films from the 1930s and 1940s in comparison to those of today.

After college, Fiske pursued a career in effects animation, which he describes as "animating everything moving on the screen besides the characters." He ended up working on commercials as well as several films with Sony Pictures.

In February 2012 Fiske joined Walt Disney Studios, where he became involved in the film Frozen. Fiske worked with both 3D and 2D animators in the making of the movie to bring specific parts to life, including a huge blizzard sequence in the film's climatic scene. This involved months of hard work, sometimes requiring 12 to 13 hour days. The most challenging part was "competing with my own expectations," Fiske says, which meant working on certain parts of the film repeatedly until he was satisfied with them.

The hard work paid off. Frozen ended up being a gigantic commercial and critical success, grossing over $1 billion worldwide and winning an Oscar for Best Animated Film. Fiske was also part of a team of eight animators who won a Visual Effects Society award for Outstanding FX and Simulation Animation in a Commercial or Broadcast Program.

Fiske feels amazed to be a part of such a massive hit. "Millions of people have seen my work," he says. "It's unreal."

Fiske is currently working on an upcoming Disney short film. He encourages aspiring animators to work hard and find an area they excel at. He found his niche in effects animation and he believes "there's a role out there for everybody."