Monday, April 7, 2014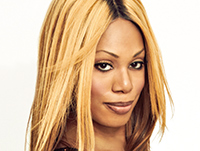 The graduating class at Hampshire College has selected actress, writer, producer, and transgender advocate Laverne Cox to speak at commencement on Saturday, May 17, 2014. Speakers are chosen each year by a vote of the students who will graduate.

Commencement is at 11 a.m. on the Harold F. Johnson Library Lawn. Approximately 330 students will be awarded the Bachelor of Arts.

Cox, who can currently be seen in the critically acclaimed Netflix original series Orange is the New Black, was the recipient of the Anti-Violence Project's 2013 Courage Award.

She lends her voice to the cause of transgender visibility and equality, and is committed to telling diverse and three-dimensional trans* stories in the media. She travels the country speaking about issues that affect the trans* community.

Cox received critical praise for her role in the independent feature film Music Chairs in 2012. She is the first African-American trans woman to produce and star in her own television show, VH1's TRANSForm Me, which was nominated for a GLAAD media award for Outstanding Reality Program in 2011. Cox made television history when she became the first African-American trans woman to appear on a reality television program, VH1's I Wanna Work for Diddy, in 2008. She accepted the GLAAD media award for Outstanding Reality Program for I Want to Work for Diddy in 2009.

Anna Shaddae Rodriguez was elected student speaker, and Devyn Manibo and Karyn Warren-Gregory chosen as student moderators. Others selected to participate in the ceremony are Associate Professor of Video Production kara lynch (faculty speaker), Senior Associate Dean of Students Josiah Litant 00F (staff speaker), and Alumni Trustee William Null 72F (alumni speaker).

Jules Cowen, a student in the graduating class, designed the 2014 commencement poster.
Video of Commencement
The commencement ceremony will be posted on Hampshire's YouTube channel in the weeks following the event.

More commencement information