Thursday, May 8, 2014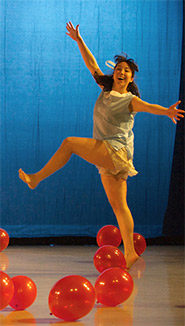 Third-year Hampshire College student Miriam King has been awarded a 2014-15 Virginia J. Wagner Scholarship. These scholarships are given annually to students for their valuable contributions to the Five College Dance Department's (FCDD) programs and productions. Other recipients this year are Smith College first year Victoria Gonzalez, Amherst College first year Loren Horn, and Mount Holyoke College junior Lila Reid.

"Miriam has performed in FCDD faculty concerts annually for the last three years and she choreographed and performed for the Hampshire Winter Dance Concert 2014," said Jim Coleman, chair of the department. King studies dance and neuroscience at Hampshire, and she will spend the summer conducting independent research on people living with Parkinson's disease who are enrolled in dance classes as part of their treatment.

The Wagner Scholarship, now in its second year, is made possible through an endowment administered by the University of Massachusetts Foundation, Inc. Faculty members from each of the five campuses nominate students and the FCDD executive committee advises the department chair on the final award selections.