Friday, May 16, 2014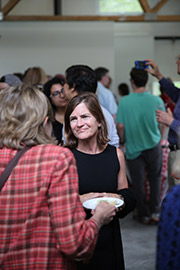 The barn has officially been Rehamped.

A ribbon-cutting ceremony for Hampshire's new Roos-Rohde House on May 15 concluded years of hard work that transformed a horse barn formerly located at the president's house into a student gathering space.

"All over this valley, on campuses, buildings are going up. Big brick buildings, big new structures," said President Jonathan Lash. "I'd bet none has on it, or could have on it, 'This is a project of, by, and for students.' This is Hampshire at work."

President Lash noted that students ran with the idea of demolishing the barn and moving it, and got the entire campus involved in choosing where it would go, what it would look like, and how it would be used.

Named to honor the dedication and ongoing commitment to Hampshire College of former board chair Sig Roos 73F and his wife Ruthie Rohde 75S (pictured above), it will be the new home of the Mixed Nuts Co-op as well as a space for socializing, studying, and whatever else the campus community would like to use it for.

"The Roos-Rohde House has been tirelessly constructed by a list of individuals that is, so far, eight pages long," said Sasha Conley 12F, who, along with Karina Rosenstein 11F, represented the Barn Committee. "The beauty of this project is that there is a piece of everyone in this building, because there will be no final product. This building will continue to grow and change with the needs and desires of those who spend time here."

The Barn Committee represented all the groups involved in the Rehamping project, and Rosenstein was one of the most actively involved students over the past four semesters. She felt her experience was humbling, but said it also proved that "adults do not hold a monopoly on creating beautiful and functional things."

"It's real, which is incredible," said Rosenstein. "A lot of people have congratulated me, but over 100 students worked on this. So I feel I deserve about one-hundredth of the credit."

Sig Roos said that seeing the completed Roos-Rohde House was inspiring: "There is no place, no community, where we could feel more honored. The degree to which we appreciate this honor is in direct proportion to our love for these students and this College."

Rohde added that she couldn't imagine having a building named for her if it hadn't been created with the passion so many Hampshire students showed.

"It's so exciting because it's so Hampshire," she said. "The fact that students own it is the best."