Thursday, June 12, 2014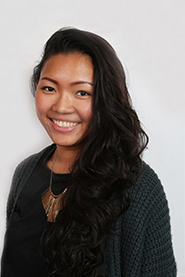 For her Division III (senior) project, Thao Do Vy Le 10F studied hydrogels, networks of chemically and/or physically connected polymer chains that substantially expand, or swell, in water. Le points to their importance in our daily lives, used in everything from contact lenses to baby diapers, biomaterials, sensors, and drug delivery systems.

Le collaborated with Katherine Aidala, a physics professor at Mt. Holyoke College and Ryan C. Hayward, a polymer science and engineering professor at the University of Massachusetts. "Before the project, we didn't have a good system to look at [the properties of hydrogels]," she says.

Le's Hampshire studies have included interdisciplinary science and anthropology, with the eventual intention of going to medical or graduate school. She says her diverse course load "helped provide me with a holistic view of the human body, health, and illnesses."

The Div III gave her "the ability to identify my passion, and how to go about pursuing it," she says. "I know how to go about answering the questions I have through research."

Le's Div III committee, Professor of Biology Lynn Miller and Associate Professor of Organic Chemistry Rayane Moreira, were helpful in "advising me about the classes I should take, helping me to find jobs and internships, and preparing me in general for medical school," she says.