20th Annual Eqbal Ahmad Lecture Highlights "The Fight Back"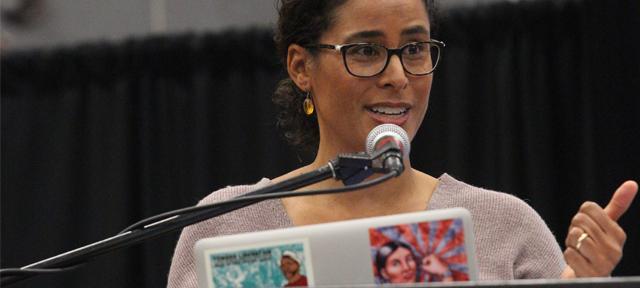 Racism, discrimination, and persecution against immigrants in the United States were the subject of talks by the two speakers at the 20th-annual Eqbal Ahmad lecture on November 9. The event, Enemies of the State: Immigration Control, Mass Incarceration, and the Fight Back, featured lectures by UCLA Professor of African American Studies Kelly Lytle Hernández and grassroots organizer Fahd Ahmed. 
Hernández's lecture illuminated the connection among native oppression, mass deportation, and mass incarceration, portraying the three as symbiotic, self-perpetuating notions. Her talk centered on Mexican immigration in the early-20th-century West, and congress's 1929 prohibition on border crossings from Mexico. The legislation that was meant to cap the number of Mexican immigrants in the Southwest, she said, was instead used to criminalize, prosecute, and imprison Mexican immigrants. 
Hernández details this and other studies of mass incarceration in her book City of Inmates: Conquest, Rebellion, and the Rise of Human Caging in Los Angeles. The director of the Ralph J. Bunche Center for African American Studies at UCLA, she is the research lead for Million Dollar Hoods, which maps how much is spent on incarceration per neighborhood in Los Angeles County. 
Ahmed spoke of life as an undocumented Pakistani immigrant in the United States, of growing up and facing, with other immigrants, racism, systematic oppression, racial profiling, and marginalization by the U.S. government. He then talked about mobilizing, advocacy, and building resistance to the factions of white supremacists gaining traction nationally.  
Ahmed has for 17 years been a grassroots organizer on the issues of racial profiling, immigrant justice, police accountability, national security, and educational justice. He is the executive director of DRUM — Desis Rising Up and Moving of New York City (http://www.drumnyc.org), where he has served in various capacities since 2000. DRUM has built and mobilized thousands of low-income South Asian immigrants to lead policy change on issues such as immigrant rights, education reform, civil rights, and worker justice, policies that have an impact on their own lives.
The annual Eqbal Ahmad Lecture honors the teaching, scholarship, and activism of the longtime Hampshire College professor, who died in 1999. Professor Ahmad was described by the scholar Edward Said as "perhaps the shrewdest and most original anti-imperialist analyst of Asia and Africa." Hampshire College President Jonathan Lash said that in a world "where disagreement too often turns to shouting, where conflict turns to violence," Professor Ahmad was a "courageous voice for justice" who "built lifelong dialogues with those who began as his opponents."
1