After Service In AmeriCorps and Peace Corps, Leanna Pohevitz Earns Fulbright to Brazil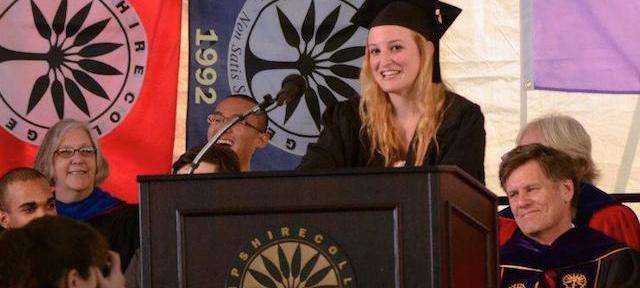 Leanna Pohevitz received a Fulbright to serve as an English teaching assistant in Brazil for nine months beginning in early 2018, an opportunity to advance her teaching skills; learn about the people, education system, and culture of the country; and practice Portuguese. A prolific world traveler and a linguist, Pohevitz is actively and formally studying 14 languages.
She wrote in her Fulbright application, "I became passionate about learning and teaching languages as I realized that if I spoke them, opportunities to engage with the world became available."
Before leaving for her Fulbright service, Pohevitz 08F is completing her time with AmeriCorps in the Montana Conservation Corps, building trails in national parks. After Hurricane Harvey, she spent a month in Texas providing disaster relief.
Pohevitz had won a Fulbright to be an English teaching assistant in Turkey in spring 2016, but the U.S. State Department announced later that year for reasons of safety, it would not send Fulbright recipients to that country.
Pohevitz served for two years in the Peace Corps in Morocco, where she taught English to hundreds of students, ages 4 to 83, and spent two years creating an English health curriculum.
She explains it was a huge undertaking, organizing her fellow Peace Corps volunteers and writing the curriculum, through which thousands of Moroccan students are learning English in the context of daily healthy habits and goal setting.
While they practice the language, they also learn about the Heimlich maneuver, the spread of germs, and sanitary kitchens. Pohevitz is hopeful that the Peace Corps in Morocco will continue using the curriculum.
She said she was inspired to pursue a Fulbright by her experiences at Hampshire, where her concentrations were in linguistics, philosophy, and political science. For her Division III, she wrote a 483-page textbook to teach Arabic to English speakers. Pohevitz was voted by her classmates to give the student Commencement speech.
She is a three-time recipient of the Critical Language Scholarship, administered by the State Department, and says she's hoping to apply the many lessons from her global education in a career influencing educational policy in America.
1