Alum Amy Goldstein 76F Screens Hampshire Documentary on Campus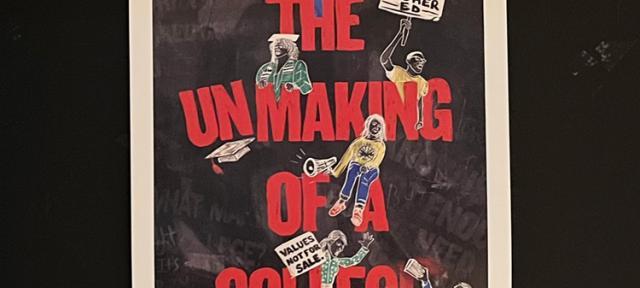 On February 17, alum filmmaker Amy Goldstein 76F screened her new documentary The Unmaking of a College to a full house in Franklin Patterson Hall. The 85-minute film covers the longest student sit-in in American history—75 days Hampshire students occupied the president's office in early 2019—and celebrates the power of student activism.
Following the January 2019 announcement by former President Miriam Nelson that Hampshire was experiencing a financial shortfall and seeking a strategic partnership, student leaders orchestrated the sit-in and organized the group Hamp Rise Up. Described as "a raucous ode to democracy in action," Goldstein's film captures the enduring spirit of student involvement and dissent at Hampshire.
Using extensive footage shot by students during the 75 days, as well as news footage, press conferences, and interviews she conducted with key players during the events, The Unmaking of a College tells only one narrative from that fraught period in the College's history. "I could only tell the story of what was filmed," she said. "I wish I could share what everyone was doing then."
An audience made up of students, faculty, staff, families, and Five College members, many of whom lived through the events on campus during early 2019, reacted energetically to the film throughout, expressing a range of emotions. The screening was followed by a panel discussion featuring former student organizer/alum Marlon Beccera 15F, former student documentarian/alum Josh Berman 17F, alum Cheyenne Palacio-McCarthy 15F, former trustee Mingda Zhao 98F, and Professor of Sociology Margaret Cerullo joined Goldstein to take questions from the audience.
"I want people to know about Hampshire College," Goldstein said. "And to see students who will fight to save what they love."
The Unmaking of a College opened at IFC in NYC the previous week. Immediately following its showing at the College, Goldstein held a second screening and panel at Amherst Cinema, where it is currently showing.
1