Alum-Curated Exhibit Features Photographs from Hampshire's Collection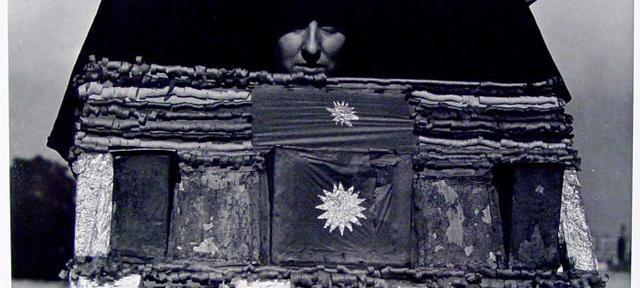 The Hampshire College Art Gallery is pleased to present In each hand I keep each of my eyes, running from December 15, 2016-January 15, 2017, and curated by Jocelyn Edens, Kress Curatorial Fellow and Hampshire alum. The exhibit is preceded by a series of student Division III showcases in the gallery through December 12, detailed below.
In each hand I keep each of my eyes stages encounters between Manuel Álvarez Bravo photographs in Hampshire's permanent art collection and moving images by contemporary artists Buster Graybill, Tanya Lukin Linklater, Dawit L. Petros, Nandita Raman, and Ani Rivera. With an emphasis on material—texture, touch, friction, weight, density, light—these works reconfigure discourses on place, indigeneity, and heritage.
The portfolio of fifteen Manuel Álvarez Bravo photographs in Hampshire's collection forms the core of this exhibition. Álvarez Bravo appears as a master throughout narratives of post-Revolution Mexican modernism and the history of photography. Published by Acorn Press in 1977 and printed from negatives that date from 1926 to 1977, the collection accounts for Álvarez Bravo's full photographic vocabulary: lyrical, documentary, surrealist, citizen-forming,  punning, remote, committed.
In each hand I keep each of my eyes is a first draft, a kind of thinking out loud designed to start accumulating thoughts on what we can do with this collection of Álvarez Bravo photographs here at Hampshire. To that end, the closing of the exhibition will be marked by the publication of an online catalogue with contributions from Hampshire College faculty, staff, and students, including Rachel Beckwith, Margaret Cerullo, Naya Gabriel, Eric Gottesman, Haley Holsather, William Kaizen, Karen Koehler, Matt Krefting, and Claudio Nolasco.
Hampshire College Art Gallery
Harold F. Johnson Library
Gallery hours:
Monday-Friday, 10:30 a.m.-4:30 p.m.
Closed Saturday
Sunday 2-5 p.m.
Closed for winter break, December 23-January 2

Leading up to the exhibition, the gallery will also host the following Division III shows by six graduating students:

Hayden Daiber and Claire Sammut, November 28 - December 2, 2016

Hayden Daiber, Una Mujer y Sus Medallas

Claire Sammut, Holding/283 Green Avenue

Reception: December 1, 5-9 p.m.

Talia Halpern and Mary Kate Cleary, December 2-7, 2016

Talia Halpern, and away go troubles down the drain

Mary Kate Cleary, Today I Wrote Nothing

Reception: December 3, 6-10 p.m.

Emma Petersky, December 7 - 11, 2016

Emma Petersky, original content

Reception: December 9, 5-8 p.m.

Tyrone Billingsley, December 12, 2016

Tyrone Billingsley, The Yuge Show

Reception: December 12, 5-9 p.m.
1