Alum Dineen O'Rourke Named Brower Youth Awardee for Leadership in Environmental Movement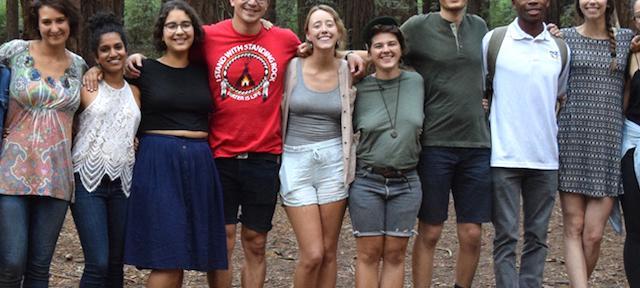 Recent Hampshire graduate Dineen O'Rourke is one of seven young leaders nationally to be named a Brower Youth Award winner for 2017, recognized for service in the environmental movement, as she prepares to lead a youth delegation to the United Nations Climate Conference in Germany, November 6-17 – her second year attending the conference.
The Berkeley-based organization Earth Island Institute annually selects awardees from a pool of applicants from across North America, honoring them this year at a ceremony in San Francisco on October 17.
For her Division III thesis, O'Rourke, who graduated in May 2017, reported on the role of young people in the United Nations climate negotiations. In November 2016, she attended COP22, the 22nd-annual UN Climate Change Conference, in Marrakesh, representing the youth-led organization SustainUS.
This year she is one of three recent Five Colleges grads -- along with Varshini Prakash, UMass Class of '15; and Andrea Schmid, Smith College '17 -- to join 13 other young people from across the US on the official SustainUS youth delegation to COP23 in Germany.
She said the delegates are prepared to address and counter the decision by President Donald Trump to remove the US from the Paris Climate Agreement earlier this year.
"COP23 is a crucial conference," O'Rourke says. "This is our country's first U.N. climate conference under the Trump administration, the first in which our country will be represented by a former fossil-fuel CEO, ExxonMobil's Rex Tillerson, and the first since the United States announced it will withdraw from the landmark Paris Agreement. This is why I feel we must be present there — to elevate the voices of people and our planet, not of the polluters running our government."
O'Rourke says it's a great honor to be recognized by the Brower Youth Awards. "This is in no way just about me; the award is shared among all of my delegation. We are fifteen climate-justice leaders from across the country who are ready to use the opportunity of the COP23 conference to hold our country accountable for its role in creating and deepening the climate crisis," she said.
In addition to her international organizing, O'Rourke is active in her local and regional fossil fuel resistance movements. She has mobilized opposition to two fracked-gas projects in New England, and participated in the successful protests against the Northeast Energy Direct pipeline. She is also a cofounder of the Sugar Shack Alliance, a regional organization that has trained hundreds of activists in nonviolent direct action throughout western Massachusetts.
To read more about O'Rourke's Brower Youth Award, visit http://www.broweryouthawards.org.
1