Alum Gary Marcus 86F Addresses AI's Blurred Lines Between Fact and Fiction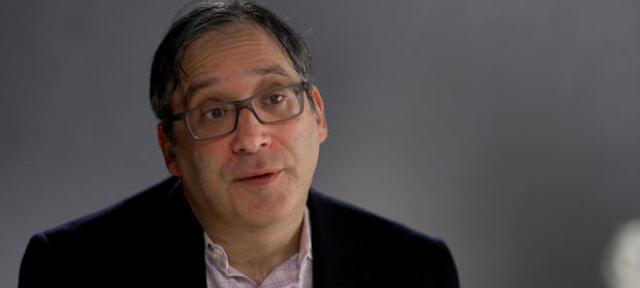 A leading voice on the topic of artificial intelligence (AI), Marcus is passionate about discussing this rapidly evolving technology. With large tech companies, such as Meta, Microsoft, and Google, in a race to introduce intelligent chatbots to their platforms and ChatGPT dominating headlines of late, the future of AI is front and center in the minds of many.
Hampshire College alum Gary Marcus 86F, a scientist, author, and entrepreneur who has conducted extensive research in human-language development and cognitive neuroscience, is well known for his challenges to contemporary AI. "I actually like to call what [ChatGPT] creates 'authoritative bull****,'" said Marcus on the CBS News program 60 Minutes. "It blends the truth and falsity so finely together that, unless you're a real technical expert in the field they're talking about, you don't know."
The concept of "trustworthy" AI models is a key area of interest for Marcus and other leading experts. In a recent article for Time magazine, he and coauthor Noah Giansiracusa express their concern for the potential of AI to be used to erode social trust and weaponize disinformation. "Although much discussion has centered around the size of the AI models and how much data they are trained on, there's another factor that may matter a lot, too: the degree to which the contenders build trustworthy systems that don't unduly harm society and further destabilize democracy," write Marcus and Giansiracusa. 
Despite the potential pitfalls of AI that Marcus points to, there is inarguably a lot to learn and be gained from it as well. ChatGPT, an artificial intelligence chatbot developed by OpenAI, launched in November 2022 and has since passed the 100- million-users threshold. The record-setting success of AI chatbots illustrates just how prominent this technology could become in our day-to-day lives. Scholars like Marcus are helping us to better understand the many nuances of this evolving resource and imagine what lies ahead.
A core piece of Hampshire's new academic curriculum is understanding this very topic. In our Media and Technology Learning Collaborative, students, faculty, and staff are coming together to address this question: "How do we decide what constitutes truth in a 'post-truth' era?" They're currently considering how we actively participate in the creation, documentation, dissemination, consumption, and critique of information, as well as examining how information can be manipulated, what the costs of mis/disinformation are, and how we can discover and share "truth."
Watch Marcus on "The new world of AI chatbots like ChatGPT" on 60 Minutes.
George Marcus is an emeritus professor of psychology and neural science at New York University. He is the author of five books, among them The Algebraic Mind, Kluge, The Birth of the Mind, and the New York Times best seller Guitar Zero. He has often contributed to The New Yorker, Wired, and the New York Times. His most recent book, Rebooting AI, with Ernest Davis, is one of Forbes's "7 Must-Read Books About Artificial Intelligence."
1