Alum Rowen White 97F Wins James Beard Leadership Award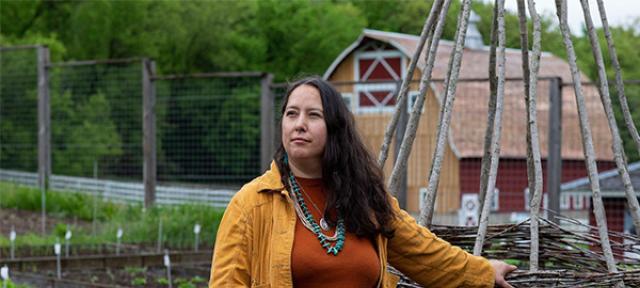 On March 29, the James Beard Foundation announced that the program will honor six winners this year, among them, Hampshire College alum Rowen White 97F. She is being honored for her contributions to sustainable food systems.
White, who is from the Mohawk community of Akwesasne, is a farmer, seed keeper, and published author. She is the founder and creative director of Sierra Seeds, a living Indigenous seed bank farm in Nevada City that is centered on values-aligned cultural stewardship of land, seeds, cultural memory, and dignified resurgence of a culture of belonging in our seed and foodways.
White is also the founder of Indigenous Seed Keepers Network, which promotes Indigenous cultural diversity for future generations by collecting, growing, and sharing heirloom seeds and plants.
"I receive this on behalf of the grand lineage of Mohawk seed keepers and farmers who kept our precious seeds alive in the face of countless adversities so that a living descendent, like myself, could learn from these seeds and cultural teachings and in turn, share these embodied teachings with the next generation of Indigenous farmers," White says.
The James Beard Foundation's Leadership Awards recognize individuals and/or organizations whose work is helping to create a safer, more healthful, equitable, and sustainable food world. The Awards are given for achievement in developing a global food system that is just, sustainable, and economically viable for both producers and consumers.