Alumni Artists Invited to 'Install Poetry in 3D Space' in Hampshire College Art Gallery Exhibit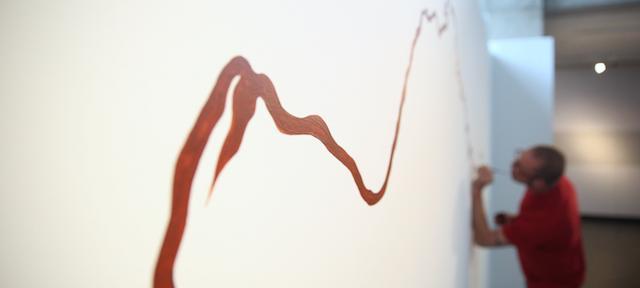 The Hampshire College Art Gallery is premiering a new exhibition this summer where accomplished alumni artists were invited to install poetry in three-dimensional space, considering the transmission of their work as a heard, performed, read, graphic, and embodied medium. Of Soil and Tongues debuts Thursday, June 1 with a public opening, from 5-8pm, part of Amherst Arts Night Plus, a free monthly cultural event in Amherst. The exhibit will conclude in late summer in conjunction with the 5th Annual Amherst Poetry Festival, September 15–17, and incorporate a range of events at multiple Amherst venues, including the Emily Dickinson Museum.
The exhibition features new work from three Hampshire alums — Miatta Kawinzi, lê thi diem thúy, and Sahar Muradi — as well as Laimah Osman.
Miatta Kawinzi mixes footage from the west coast of Puerto Rico with slowed-down shots of her own body defying rules of gravity, leading viewers to read, look, and listen in nonlinear time. lê thi diem thúy gives form to a novel-in-progress, joining utterances from Emmett Till and naming the victims of the My Lai massacre, in a study of American violence and exceptionalism. Sahar Muradi and Laimah Osman present two graphic series on the heartache and play of learning to voice a mother tongue. [Full biographies below.]
As a partner of the 5th Annual Amherst Poetry Festival, Of Soil and Tongues and its related programs will help extend the festival into South Amherst.
"Connecting with the Hampshire College Art Gallery for this festival collaboration has brought such a powerful dynamic to our fifth anniversary," says Jane Wald, director of the Emily Dickinson Museum. "Because the festival is rooted in Emily Dickinson's poetry, a central focus is the work of contemporary women poets and artists. We feel exceptionally lucky to have these four individual and exceptionally talented women creating Of Soil and Tongues, and look forward to the festival events tied in to the show."
The collaboration with the Emily Dickinson Museum seems especially evocative given that the exhibit's concept found its genesis in Dickinson's poetry, which challenges traditional expectations of form with its graphic effects, unconventional use of punctuation, and strong sense of materiality. The contemporary writers in the show continue to push the boundaries of form; their involvement will also reshape this year's poetry festival.
Of Soil and Tongues is curated by Amy Halliday, director of the Hampshire College Art Gallery, and Jocelyn Edens, Kress Curatorial Fellow.
Gallery hours and location: gallery.hampshire.edu
Amherst Arts Night Plus: www.amherstartwalk.com
PICTURED BELOW: lê thi diem thúy "sông song / river song" (installation detail) 2017. Vinyl, pine, cherry, ink, tracing paper, pigments, brick dust, slate.
BIOGRAPHIES
Miatta Kawinzi is a multidisciplinary artist. She explores the figure, the inner and outer landscape, and culture as sites of reimagination and possibility. She works with images, objects, sound, space, the body, and language. She also works as a community teaching artist and museum educator. Kawinzi was born in 1987 in Nashville to a Liberian mother and a Kenyan father. Now based in New York City, she has exhibited and/or performed her work in Mexico, South Africa, Switzerland, Trinidad & Tobago, and Liberia, as well as in the United States. Her work is in the Art-in-Embassies public collection in Monrovia, Liberia; in an Art Connects New York public collection in the borough of Queens; and in private collections. She has been awarded artist residencies at the Bemis Center for Contemporary Arts, Beta-Local, Greatmore Studios, IAAB, Flux Factory, and the SOMA Summer program and has received additional awards from the New York Community Trust, Hampshire College, and Hunter College. She earned a BA in interdisciplinary art and cultural theory from Hampshire College in 2010 and an MFA in studio art from Hunter College in 2016. 
lê thi diem thúy is a writer and solo performance artist. Born in southern Vietnam and raised in Southern California, she often explores the role of the body as the site of memory. She is the author of the novel The Gangster We Are All Looking For, and her prose and poetry have appeared in The Massachusetts Review, Harper's Magazine, Muae, and The Best American Essays, as well as in the anthologies Killing the Buddha: A Heretic's Bible, The Very Inside, Half & Half, and Watermark. lê's solo performance works Red Fiery Summer, the bodies between us, and Carte Postale have been presented at the Whitney Museum of American Art (New York City), the International Women Playwrights' Festival (Galway, Ireland), the New WORLD Theater (University of Massachusetts Amherst), and the Marfa Theater Company (Texas), among other venues. 
She has been awarded residencies from the Headlands Center for the Arts, the GAEA Foundation, and the Lannan Foundation and fellowships from the Radcliffe Institute for Advanced Study, the John Simon Guggenheim Foundation, and United States Artists.
Sahar Muradi, a writer, performer, and educator, was born in Afghanistan and raised in the United States. She is the author of the forthcoming chapbook [ G A T E S ] and coeditor, with Zohra Saed, of One Story, Thirty Stories: An Anthology of Contemporary Afghan American Literature, and is a cofounder of the Afghan American Artists and Writers Association. She has published most recently in Brooklyn Rail and Dusie. She is the recipient of the 2016 Stacy Doris Memorial Award and twice received the Himan Brown Creative Writing Award in Poetry. She is a Kundiman Poetry Fellow and an AAWW Open City Fellow. Muradi has an MFA in poetry from Brooklyn College, an MPA in international development from NYU, and a BA in creative writing from Hampshire College. She directs the poetry programs at City Lore and, she says, dearly believes in the bottom of the rice pot.
Laimah Osman is a Brooklyn-based artist and educator whose production takes the form of prints, drawings, and artists' books. Her work has been displayed in numerous exhibitions and is archived in various libraries. She has been awarded residencies at the Lower East Side Printshop, Kala Art Institute, and Women's Studio Workshop as well as grants from the Brooklyn Arts Council and the Jerome Foundation. She teaches at Parsons The New School for Design and makes prints with local poets. Osman holds a BFA from the Mason Gross School of the Arts at Rutgers University (1998) and an MFA from Pratt Institute (2010).
1