Announcing the Reappointment of President Ed Wingenbach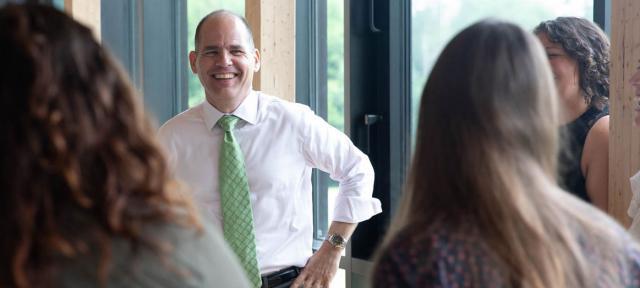 The Hampshire Board of Trustees unanimously offered a five-year contract following a comprehensive review of his first two years.
Hampshire College is pleased to announce that the Board of Trustees unanimously agreed to offer President Ed Wingenbach a five-year extension of his appointment. This decision follows a comprehensive review of Wingenbach's performance during his first two years, informed by interviews with senior leadership, faculty, staff, and students.
Since joining the College in 2019, President Wingenbach successfully developed a viable multi-year path to financial sustainability; restructured the operating budget, working collaboratively and transparently with faculty and staff to meet expense targets; oversaw the successful launch of the $60M Change in the Making campaign, which has already generated more than $25M in new commitments to the College; led a community-wide process to reimagine and reinvigorate an innovative student academic experience; rebuilt a dynamic and experienced senior leadership team; maintained continuing accreditation with NECHE, and navigated the Covid-19 crisis on campus, allowing students a residential educational experience while maintaining rigorous public health and safety standards.

Board of Trustees Chair Jose Fuentes 05F said of the reappointment, "As we continue to move Hampshire forward, we must be courageous, committed to our mission, willing to embrace change, and thoughtful when making hard choices. President Wingenbach leads with these values at the forefront, while keeping central the vision of Hampshire College. On behalf of the board, we are grateful for his leadership and look forward to partnering with Ed to ensure a vibrant future for our College, one that will allow us to make an outsized impact on Hampshire's future and the future of higher education."
1