Announcing Retirement, President Lash Promises Ambitious Agenda and Continued Momentum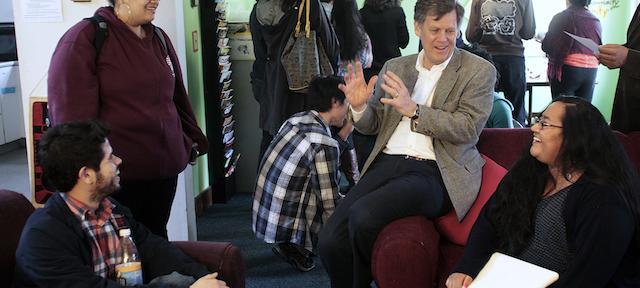 "This feels like momentum to me. Together we will build on it." Hampshire College President Jonathan Lash announced Friday he will retire in June 2018, at age 72, after his seventh year in office. Lash has led Hampshire through a period marked by significant advances in its student-centered education, college access, diversity of the community, sustainability, philanthropy, and infrastructure. He has recommitted Hampshire to pursuing its founding principles of putting ideas into action, advocating that students and faculty engage critical social issues and be a force for positive change in the world. And he has motivated record numbers of donors to invest in these efforts.
In a letter to the Hampshire community, Lash said he believes profoundly in the College's importance and is "inspired every day by Hampshire's singular approach to education, humane mission, and extraordinary people who work so hard on its behalf." But after recovering from serious illness last year — Lash was on medical leave for the 2016 spring semester because of complications from back surgery — he said he recognized how much he and his wife, Ellie, and their family want to do while he was still healthy.
Lash will remain fully engaged as Hampshire's president and continue to advance an ambitious agenda until his replacement is ready to take office. To that end, Board of Trustees Chair Gaye Hill wrote to the Hampshire community on Friday that the board is initiating a search process for a new president. (Read the letters from Jonathan Lash and Gaye Hill.)
In his letter, Lash said he doesn't know of another institution that approaches learning the way Hampshire does, "where every student designs their own personal course of study, recruits faculty advisers, receives detailed written evaluations instead of letter grades, integrates various disciplines, engages in the community no matter their concentration, and spends their final year creating a formidable capstone project of original work."
Hampshire Achievements During the Lash Presidency
Two-Year Strategic-Planning and Implementation Plan
In 2013–2014, Hampshire underwent a two-year strategic-planning process, overseen by campus committees. It included extensive community input: There were 146 meetings to hear comments and ideas from more than 1,300 individuals and a survey that collected 850 more responses. This process resulted in the College's five strategic-planning priorities and an implementation plan that detailed 35 projects and their budget implications.
Student-Centered Admissions and Academics
Starting in 2013, the College led a reorientation of admissions efforts to attract students best suited to thrive in Hampshire's inquiry- and project-based learning environment, often referred to as a "graduate school model of undergraduate education." Hampshire retooled its admissions and financial-aid strategy to more accurately enroll the students for whom Hampshire is the right fit, and to support them with need-based aid.
In 2014 Hampshire became the first U.S. institution not to accept SATs and ACTs, citing that the tests have no predictive value for determining who excels at Hampshire and are biased against low-income families. During Lash's tenure, total scholarships and grants to students have increased 24 percent, with average student loan debt the same as or lower than that of graduates of public universities in New England. Generous grants to Hampshire also established a scholarship fund for undocumented students and an emergency fund for high-need students.
The College has strengthened the academic experience by endowing new professorships and creating innovative programs, such as Ethics and the Common Good (supported by $4.9 million in gifts) and Entrepreneurship (more than $2 million in gifts). Last year, the Mellon Foundation awarded Hampshire $1.2 million for its efforts to redefine the academic library as a "knowledge commons," which promises to serve as a national model. Hampshire is also developing a more comprehensive approach to community engagement by students, an academic requirement of all its students.
Diversity and Inclusion
Hampshire increased the diversity of its student body, faculty, and Board of Trustees and recommitted itself to being an inclusive, intentionally antiracist community. Students of color now make up 28 percent of the community, an increase from 18 percent in 2010. Faculty of color comprise 27 percent (up from 18 percent) and trustees of color 31 percent (up from 13 percent).
Sustainability and Pedagogy
Hampshire has become a national leader in environmental vision and stewardship with the development of innovative programs and infrastructure supported by more than $10 million in grants. Its Sustainability Initiative integrates operations, curriculum, and food production, promoting a campus culture of sustainability. The new R.W. Kern Center, the first major building project on campus in almost three decades, its construction funded fully by private donors, is designed to meet the most stringent green-building standard, the Living Building Challenge. The building's advanced systems have fueled cutting-edge student and faculty research across disciplines.
The College has committed to going 100 percent solar for electricity and has completed the installation of 19 acres of solar arrays on campus in a deal that promises to save $400,000 annually in electricity costs. Hampshire has continued to increase its course offerings in the environment and environmental justice.
Philanthropy and Fund-Raising
Under Lash's leadership, Hampshire has connected with more donors and volunteers who believe in the College's unique, student-centered, project-based model. Gifts and new pledges to Hampshire doubled over the past five years compared with the five years before his term began. Endowment value increased 57 percent.
Place and Infrastructure
Hampshire has made major improvements throughout campus: renovating Cole Science Center, funded by a $1 million gift; constructing a student community building, the Roos-Rohde House; and extensively upgrading classrooms, performance spaces, residence halls, and common areas. The College partnered with the Hitchcock Center for the Environment to host its new "living building" headquarters on the Hampshire campus, expanding a Cultural Village that includes the Yiddish Book Center and the Eric Carle Museum of Picture Book Art.
Student Life and Wellness
Hampshire launched a Healthy Campus Initiative to make the campus smoke-free and increase recovery-support services, as well as the Healthy Food Transition. It undertook a major study and proposal, still under consideration, for creating a Wellness Commons and relocating all wellness and health services to the center of campus.
"Everything we're doing is focused on supporting our students, who will challenge and change their world," Lash said. "Hampshire sends truly accomplished young people into the world unrattled by uncertainty. I believe the world needs people like these, unafraid of the difficult, unpredictable, sometimes contentious process of change, students who see change as a necessary and moral obligation, especially in complicated times."
Board of Trustees Initiates Presidential Search
In her statement on behalf of the board, Chair Gaye Hill said trustees began developing a search process for the new president this week in Amherst during their quarterly meeting. The plan calls for identifying individuals from the board and on campus to serve on a search committee, and inviting input from the entire Hampshire community to understand the qualities and temperament desired in a new president. "Jonathan's ability to listen, to question, to consider new perspectives, and to give all of us room to contribute, create, and make a difference — these are qualities we will seek in a new president as well," Hill said.
"The most important job of any governing board is to identify and select the right person to lead their institution," she said. "Our highest priority is to carry out a search that achieves continuity and quality of leadership for this remarkable College."
Jonathan Lash Before Hampshire
Jonathan Lash came to Hampshire College in 2011 from the World Resources Institute, a Washington-based, global environmental organization. Under his leadership, WRI quadrupled its budget and created offices in eight countries and partners in more than 50 nations. From 1993 to 1999, Lash cochaired the President's Council on Sustainable Development, a group of government, business, labor, civil rights, and environmental leaders appointed by Bill Clinton. He played a key role in the creation and success of the U.S. Climate Action Partnership, which in 2007 issued the highly influential "Call to Action" on global warming. After receiving his AB from Harvard College, he joined the Peace Corps, during which time he met and married Eleanor Scattergood, a fellow volunteer. Together they worked on community-based development projects in the Dominican Republic.
Lash earned his MEd and his JD from Catholic University. He began his legal career as a federal prosecutor and then became senior staff attorney for the Natural Resources Defense Council. He was named Vermont Commissioner of Environmental Conservation in 1985, and in 1987 was appointed Vermont Secretary of Natural Resources. In that capacity he helped write, win enactment of, and implement innovative statutes pertaining to pollution prevention, solid-waste management, and protection of streams.
1