Artist Residency Celebrates Freedom and Creativity in Music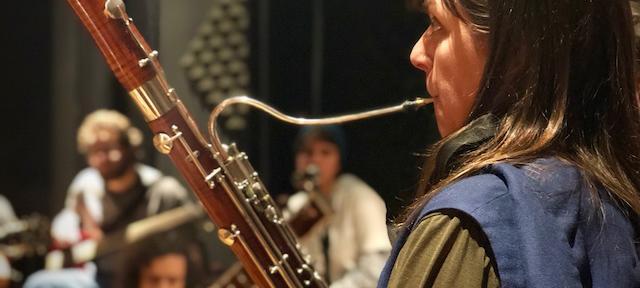 On the stage of the Hampshire College Music and Dance Building, a group of students sat with their instruments in a circle, and were asked to play sounds they had never played before.
"What if you did that every day and you tried to find the other side of your sound?" asked Nicole Mitchell, award-winning flutist and one of the three guest musicians leading the improvisation workshop, on the evening of November 29th. "With improvisation, you have the freedom to make any sound. You don't have to be correct, you don't have to be clean or pure or perfect. The idea is to be expressive."
The workshop was one of six events of the artist residency Freedom Sounds, held between November 28th and December 1st at Hampshire, Mount Holyoke, and Amherst Colleges. Besides Mitchell, the residency brought to Hampshire bassoonist Sara Schoenbeck, who recorded for many projects including the movies The Matrix sequels; cellist Tomeka Reid, who had recently been described as a "New Jazz Power Source" by The New York Times; and Ingrid Monson, Quincy Jones Professor of African American Music at Harvard University.
Organized by Professor of Jazz and Contemporary Music Marty Ehrlich, the events (a luncheon, three workshops, a panel symposium and concert) were inspired by the work of legendary musician and late scholar Yusef Lateef. A Grammy Award winning composer and Five College Distinguished Professor of Music and Music Education, Lateef performed worldwide, creating a prolific and diverse body of work. One of his most well-known theories is that of "autophysiopsychic music" — the process of finding one's musical voice through physical, mental, and spiritual experiences.
Listen to Hampshire students Naia Tenerowicz and Mountain Falls and professor of Jazz and Contemporary Music Marty Ehrlich talk about the improvisation workshop, held as part of the Freedom Sounds artist residency:
Because Lateef was such an innovative artist, Ehrlich and his colleagues wanted to do something extra special in his memory. They wanted the event to "represent something different and new," said Ehrlich, "which is very much in the spirit of Lateef, who both expanded the role of different instruments in creative-improvised music and looked at music in a sort of very big tent."
That's why participants in the improv workshop were encouraged to be open to the unknown through experimentation. "It was interesting to think about music in a different way," said Division I student Connor Davis. And Naia Tenerowicz, a Division II, said she got "great advice on expanding how I play my instrument" and "cool ideas of ways I can improve myself as an improviser."
On the second day of the residency, the artists spoke at a symposium on creative music. Ingrid Monson gave a talk about Lateef's legacy and Nicole Mitchell spoke about the influence on her work of Octavia Butler and Afrofuturism.
In a question-and-answer session, Lateef's widow, Ayesha, who was in the audience, offered a final reflection that summarized the spirit of the residency. Responding to a question about whether creative music could be perceived as "too academic," she asked: "If we were to substitute the word music with the word people, and say 'creative people,' would we dare to put any kind of restriction on a person? This music is coming from human beings and it should be limitless."
The Freedom Sounds residency closed with a performance by Duende Winds, featuring Marty Ehrlich (reeds), Nicole Mitchell (flute), Tomeka Reid (cello), and Sara Schoenbeck (bassoon). The concert was part of the Pioneer Valley Jazz Shares series.
This artist residency was made possible by funds from the Gross Family Fund in honor of Dr. Yusef Lateef, the Hampshire Music Program, the President's Office, the Hampshire First-Year Program, a MacArthur Faculty Grant, the Five College Lecture Fund, and Pioneer Valley Jazz Shares.
1