Bioregional Wool Clothing Exhibit Organized by Alum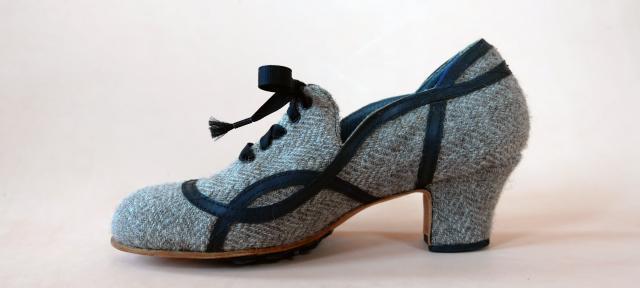 The new Western Mass Fibershed's debut project, FIBERSHED: Woven Together, will be on display at the Hitchcock Center in Amherst, MA, starting November 4 with an opening reception November 9.
Western Mass Fibershed co-founder, Hampshire alum Michelle Parrish 87F, is a natural dyer, weaver, spinner, and blogger living and working in the Connecticut River Valley of Western Massachusetts. She helped organize the show.
The exhibit celebrates the successful production of bioregional wool fabric that was fashioned into original designs by ten local craftspeople.

From bespoke shoes to flat caps and everything in between, ten expert artisans turned the flat fabric into one-of-a-kind, wearable items. Alongside the completed apparel, the fiber, yarn, cloth, and narrative storytelling materials will be on display to educate the public about producing local textile — introducing them to the land, the people, and businesses integral to the journey.

Western Mass Fibershed received a microgrant for this debut project from Fibershed California, an organization that develops regional fiber systems that build soil and protect the health of our biosphere. With this funding, the Fibershed embarked on a two-part mission: first, to navigate new territory to map the process and potential for future bio-regional cloth-productions and second, to inspire, educate, and generate interest for locally sourced, sustainable materials.

Uniquely situated, regional resources enabled the metamorphosis from farm to fabric within a 50-mile radius! This project aligns with Hitchcock Center's commitment to explore, "the interconnections between the health of humans and ecosystems" and more.

Opening Reception
Saturday, November 9 from 11 a.m.–1 p.m.
Meet the Fibershed founders, farmers, spinners, weavers, and designers who are involved with this premiere Fibershed project and others interested in sustainable practices.
Hitchcock Center for the Environment
Hitchcock Center's building is recognized as the 23rd in the world to achieve living building status.
845 West Street, Amherst MA 01002
413.256.6006
1