Bridging Divides, Embracing Diversity Through Spiritual Student Life Work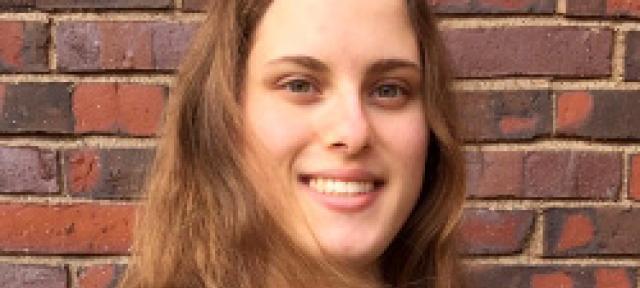 Since arriving at Hampshire, Alyssa Coffey 17F has been involved with the Interfaith Youth Core (IFYC), an organization that believes in fostering understanding and mutual respect about differences of faith and worldview as a vital step toward a less divided society.
In our country, which
IFYC
rightly identifies as the most religiously diverse it's ever been, the group partners with colleges and universities to engender cooperation between and among faith groups.
Last fall Alyssa, who also goes by Al, was selected to become one of only 10 college students from across the country to serve in the
IFYC Coach Program
. Her cohort spent a long weekend at IFYC headquarters, in Chicago, for a training, during which they got to know one another, worked on planning goals, and learned about community organizing. (This year, another coach is from Mount Holyoke College, right down the road from Hampshire, and that has facilitated collaboration.) Al returned to campus with skills to bring together students from a variety of backgrounds, histories, and religions.
Al manages communications for the Jewish Student Union, highlighting weekly gatherings and holiday celebrations. She also cofounded the Multifaith Council, a student-run group that advocates for issues such as access to specific food on campus for different faiths and ensuring that campus events don't conflict with major religious holidays. Until the disruption of campus life this spring, council members were meeting monthly to plan events that are both educational and social. Their popular Multifaith Feast series includes dinner and small-group discussion around themes such as gratitude and finding community.
IFYC encourages students to engage positively about differences and make connections, thus avoiding the polarities and fracturing that can otherwise occur. Creating unique opportunities for conversations on campus is essential to the work. "One of the things that's especially important," Al says, "is that we talk about our values in tandem with our spiritual interests. That approach leads to a productive, fulfilling interaction."
The Multifaith Council seeks to increase religious literacy on campus through dialogue, movie screenings, and other creative events. At its Dial-a-Donut event, in March, students were invited to call or text questions they had about religious practice or spirituality at Hampshire, after which council members met them with answers from a range of perspectives and a free doughnut. Dozens of students called in, sparking discussion on topics spanning the resources offered through the Spiritual Life Office to the challenges of building a worldview that accounts sincerely for moments of darkness.
Al's efforts in student life overlap with her academic concentration in religion and American studies, where she delves into questions of religious pluralism and diverse societies, both major tenets of the IFYC. Her Div II asks, "How can we use history as a vehicle to understand the present and the future?" A lot of her research and the connections she's made this year have pertained to the role of religion in and around the Civil War.
She's considering a Div III thesis that looks at how the biblical Exodus narrative, central to both Judaism and Christianity, has been employed to varying ends throughout American history. What does it mean to read an iconic story from the past as if you have a parallel role in the present? she wonders.
Al's interest in creating connections and acknowledging differences through her spiritual work with peers also applies to her perspective in the classroom, where she recognizes how one subject relates to another, that everyone asks different questions about the same issue, and that her fellow students attend classes together for different reasons.   
"One benefit of Hampshire that I've really taken advantage of is the ability to fine-tune independent work and research in all of my classes to personal academic goals and interests," says Al. "This is true both on campus and through the Five Colleges. For example, a lot of my larger projects in one class might relate to ideas or cite materials I've discussed in another class. The freedom to tailor my learning like this gives me the ability to go deeper without risking compromising what I'm 'expected' to do. I've gained trust in the fact that the quality of my work will reflect the things I'm curious about."  
1