Campus Gathers at Engage! Conference to Learn, Listen, and Build Community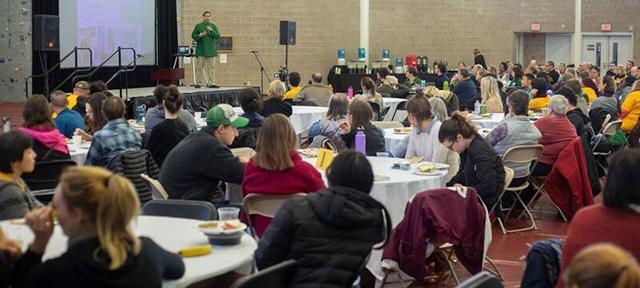 On October 23, approximately 800 staff, students, and faculty attended Hampshire's second-annual Engage! Conference, a daylong learning opportunity to advance the College's goals of promoting a deeper understanding of antiracism and social justice, and practicing inclusivity.
Organized by a 20-member planning committee under the aegis of the The Office for Diversity and Multicultural Education, Engage! presented approximately 40 programs — roundtable discussions, panels, workshops, readings, performances, film screenings, exhibitions, and talks, as well as programs based in the Hampshire Art Gallery and the Eric Carle Museum — led by some 80 facilitators. Among them were Hampshire faculty and professors from the University of Massachusetts Amherst, Mount Holyoke College, and Smith College. Facilitators from beyond academe were social-justice and public-interest organizations and an array of experts in fields from artists to activists.

Offerings ranged from the theoretical ("Fairness and Artificial Intelligence") to the practical ("How systems of oppression manifest in class discussions: Improving our practices as speakers, listeners, and facilitators"). They also spanned academic disciplines, such as computer science, creative writing, theater, and the social sciences.

"This is a good moment for all our community — staff, students, and faculty — to come together and reflect on our values and social justice," said Kristen Luschen, dean of multicultural education and inclusion and codirector of the Center for Teaching and Learning. "From the feedback we've gotten from attendees, Engage! is especially appreciated as a rare opportunity for all of us, across our roles, to share our ideas and learn together."

The conference welcomed two keynote speakers. At lunchtime, Amer F. Ahmed, director of Intercultural Teaching & Faculty Development at UMass Amherst, gave a presentation titled "Healing, Justice, and Inclusion: Skills and Strategies for Campus Inclusion in Tumultuous Times." The afternoon keynote address was given by Jamila Lyiscott, assistant professor of social justice education, also at UMass Amherst, whose topic was "Critical Hope in the Context of Crisis."

"When we speak to our peers at other institutions, we hear their excitement and admiration about the Engage! Conference as a model and an extraordinary community moment," wrote President Nelson; Eva Rueschmann, vice president for academic affairs and dean of faculty; and Gloria Lopez, vice president for student affairs and dean of students in a joint message to campus. "It makes us so proud of Hampshire College and being part of a courageous campus that comes together for collective learning, mutual care, listening, and building a stronger, inclusive, and more resilient community."

The Engage! Conference was made possible by a generous donation and with support from the following offices and programs: college advancement, diversity and multicultural education, the dean of faculty office, the Ethics and the Common Good Program, the office of finance and administration, the President's office, and the dean of students office.
1