Cara Page 88F's New Anthology, "Healing Justice Lineages," Pays Homage to Ancestral Practices of Liberation and Collective Care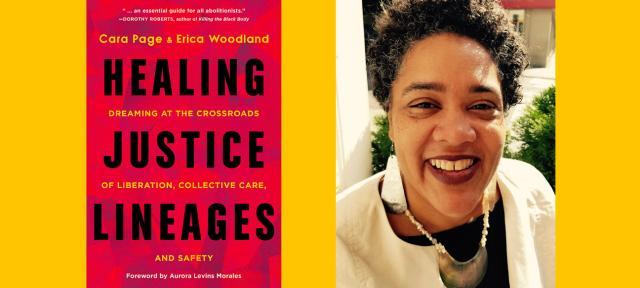 The book—comprising stories, testimonials, and incantations—spans geographies, traditions, communities, and histories. Grounded in the lineages of BIPOC, queer, and trans individuals, this work connects readers to the healing and liberation practices of past generations while envisioning the possibilities for what comes next.
Healing Justice Lineages: Dreaming at the Crossroads of Liberation, Collective Care, and Safety, edited by Black queer feminists Cara Page 88F and Erica Woodland, was published earlier this month by North Atlantic Books. The anthology investigates the history, legacies, and liberatory practices of healing justice — a political strategy of collective care and safety that intervenes on generational trauma from systemic violence and oppression.
Disability, reproductive, environmental, and transformative justice and harm reduction are central themes. Healing Justice Lineages is described as a profound and urgent call to embrace community and survivor-led care strategies as models that push beyond commodified self-care, the policing of the medical-industrial complex, and the surveillance of the public health system. With this collection, Page and Woodland seek to elevate and archive an ongoing tradition of liberation and survival — one that has been largely left out of our history books but continues to this day.
Speaking on the podcast How to Survive the End of the World earlier this month, Page described the origin of the anthology as "very much a song, a continued memory, a prayer, that was in dialogue, in conversation, with both of our ancestors. And then, being conduits of all the communities we touch, we had to invite others we knew were grounded in healing justice, no matter how they named it."
The book has been called by the author Dána-Ain Davis "a stunning and important work that offers memories, insights, and provocations" and "an essential guide for all abolitionists" by the writer Dorothy Roberts.
Cara Page is a Black feminist queer cultural/memory worker, curator, author, and organizer. For more than 30 years she has organized with LGBTQI+, Black, Indigenous, and people of color liberation movements in the United States and the Global South. She is the founder of the abolitionist project Changing Frequencies and cofounder of the Kindred Southern Healing Justice Collective. She was the executive director of the Audre Lorde Project, in New York City; a recipient of the OSF Soros Equality Fellowship (2019–20); and Activist in Residence at the Barnard Center for Research on Women.