'Climate change will change everything, including the prospects for war and peace'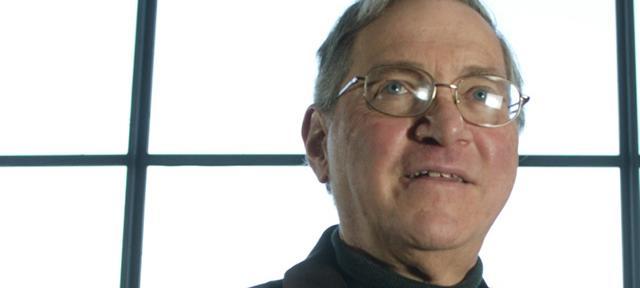 "I don't suggest that climate change is a cause of war," said Michael Klare, Five College Professor of Peace and World Security Studies. "But climate change will change everything, including the prospects for war and peace."
In this year's Five College Jackie Pritzen Lecture delivered here on December 2, Klare said the way in which world leaders address issues arising from climate change will determine whether it results in a more peaceful world. Their decisions on long-term shifts in policy that have the potential to reduce climate change, for example, and emergency responses for people seeking aid after a natural disaster, will play a major role in this.
Klare's latest Huffington Post article, "Why the Paris Climate Summit Will Be a Peace Conference," addresses this topic in greater detail. It has been picked up widely by news outlets and sparked commentary everywhere from Democracy Now! to the New Yorker.
"The only way to ensure climate change does not cause cataclysmic events is to adopt a universal system of carbon-emission reductions, with every country doing its part," Klare said in his address. "This can only be done through trust and cooperation. Climate change is unique among all the challenges humans have ever faced. It does not recognize borders, and there are no exceptions to its wrath."
The collaboration among countries, he said, cannot be a one-time gesture, and has to go far beyond any efforts to date.
"We will have to continue working together for decades to come," he said. "This will involve a degree of involvement in each other's affairs that is unprecedented."
A major challenge, he said, is the turmoil as people try to adapt to rising sea levels, severe storms, desertification, and other disruptions to their ways of life. Whereas some are given support, others face hostility, and the friction, Klare said, "often leads to violence."
That's why the importance of a comprehensive, collaborative global approach is greater than ever.
"It is our actions, in the end, that tilt the balance between war and peace in the climate-change era," he said.
The Five College Jackie Pritzen Lecture was initiated to celebrate a distinguished staff member who during her 25 years at the consortium worked to promote collaboration among faculty groups. Annually, the Jackie Pritzen Lecture is delivered by a member of the faculty whose scholarship and teaching continue that important work.
"When I arrived here, in 1985, Jackie was among the people who were especially welcoming and who helped get my program off the ground," said Klare.
1