Comedian/Voice Actor Eugene Mirman 92F Credits Hampshire as a Launching Point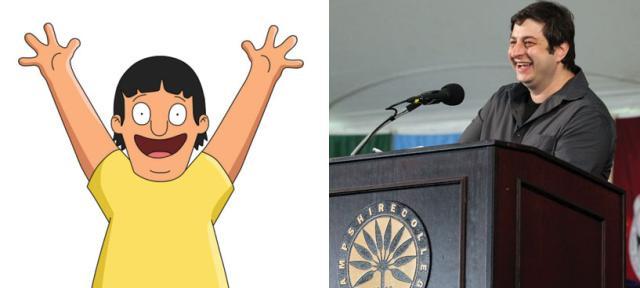 Hampshire alum and successful stand-up comic and voice actor Eugene Mirman 92F tips his hat to the College as being a formative experience for his career. 
In a recent article in Worcester Magazine, Mirman describes the way Hampshire's innovative curriculum allowed him unique opportunities to prepare for working in comedy.

Writes Robert Duguay, "Mirman attended Hampshire College in Amherst while majoring in comedy as part of the institution's 'design your own major' program with a one-hour routine serving as his thesis. This experience was surely a unique one for him and he also credits it for being both a learning and launching point for where he currently is with his career in comedy today.
"'I took a variety of classes that I then sort of put together in a major that was comedy,' he says about his time at Hampshire College. 'I took acting classes, writing classes and history classes, I did independent studies as well. For science, I did the Sociology of Laughter [class] and for social science I did a paper on Lenny Bruce and how he started the modern era of stand-up. It was a variety of things, but I also had a radio show and I did a lot of different stuff that I put towards a comedy concentration. The thing that was sort of interesting about it is that in the end, it was almost as if it had elements of a comedy trade school where I had to figure out how to get people to show up to a comedy show.'
"'I then had to try new material while putting together an hour's worth of it and it very much mimicked what you actually have to do to become a comedian,' Mirman adds. 'At the time, it seemed like this sort of odd, not necessarily practical idea but it actually happened to be an incredibly practical education for what I wanted to end up doing with my life.'"
>> Read the whole story in Worcester Magazine
1