Community Organizers Page and Carruthers Speak on 'Resisting Racial Violence'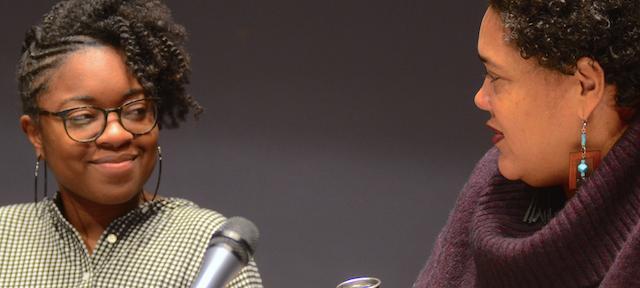 Speaking to a packed hall of some 200 students, community organizers representing black and LGBTQ communities in New York City and Chicago sent a forceful message last week about fighting injustice. The takeaways: Collaborate. Get involved. Build your base. Don't forget that although people come and go, oppressive systems remain.
Returning to campus to co-deliver the talk, titled "Resisting Racial Violence," was Hampshire alum Cara Page 88F, executive director of the Audre Lorde Project, an LGBTQ organizing center in New York City. She was joined by Charlene Carruthers, national director of Black Youth Project 100, a Chicago organization of 18- to 35-year-olds.
Their talk was part of the annual Eqbal Symposium and part of a week of events with the theme "Looking Back, Moving Forward," beginning a year of focus on the College's commitment to undo racism. The event was organized by the Presidential Advisory Council on Hampshire's Commitment to Anti-Racism, whose objective is to advise the College's work, on campus and in society, to undo racism and support communities of color.
Professor of Sociology Margaret Cerullo and Professor of Africana Studies and History Chris Tinson introduced the speakers.
Page began by acknowledging the history of black justice movements and praising leaders whose work enabled her to be in the position to speak. Page referenced the 2011 death of Yvonne McNeal, the 2012 death of Rekia Boyd, the 2015 death of Sandra Bland, and Deborah Danner's death in October: "We need to be constantly aware of the names of people dying at the hands of state and community," she said.
Page described the work of the Audre Lorde Project as an intergenerational organizing center dedicated to mobilizing, building a base, political education, and community safety and wellness. "Because black cis and trans women are still vilified, not valued, or honored, what can we do to create collective safety that will value us, honor us, and treat our lives with dignity?" she asked. "We're building transformative justice models that don't just perpetrate the punitive response of mass incarceration or the killing of our community," she said.
Page spoke at length about the adverse effects of gentrification on black communities. "Rapid gentrification is displacing us from our homes, isolating us from each other, causing us to be scared of each other. Because when we don't have three or four generations of connection, we can't rely on the shared traditions of collective safety that we had in the first place."
Carruthers's talk centered on prison abolition, police violence, and collaboration between the organization she directs, Black Youth Project 100, and others across the country to protest the loss of black lives. She stressed the importance of this collaboration.
"Some of the work I'm most proud of is how we're contributing to a broader movement," she said. "BYP100 is not the movement. We are not a movement; we are a movement organization. I'm always intentionally clear that it's not just one organization that's doing this work."
Carruthers urged Hampshire students to focus their activism on base-building and outreach because, she said, the four-year turnover within a college means people leave but the issues and systems in place stay the same.
GALLERY Charlene Carruthers. Cara Page. Chris Tinson. Margaret Cerullo.
1