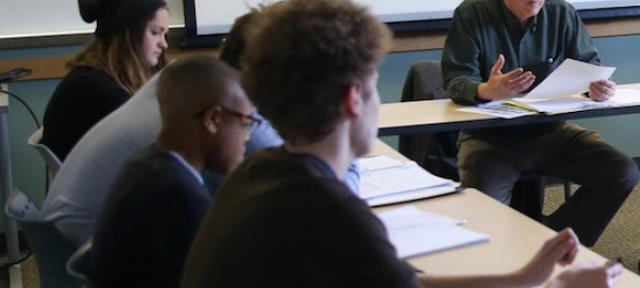 In the face of financial challenges presented by COVID-19, many colleges and universities have unilaterally announced layoffs and furloughs. Hampshire College is charting a different path. On May 23, 2020, Hampshire College faculty ratified a negotiated agreement, ensuring the continuation of the College's vibrant academic program, protecting working conditions, and avoiding faculty layoffs while meeting sustainable budget goals for the next academic year. The agreement was crafted between Hampshire's administration and representatives from Hampshire College's chapter of the American Association of University Professors (AAUP-HC).
According to the Chronicle of Higher Education, over 48,000 higher education positions have been eliminated in response to COVID-19, most with little or no consultation. Other colleges are closing. In searching for solutions to a challenging fiscal situation, too many administrations are ignoring shared governance practices, asserting that the current need for rapid and decisive action is incompatible with collaboration. At Hampshire College, faculty, staff, and students have been working creatively and collaboratively with the administration to ensure a fiscal year 2021 budget that is fiscally prudent in light of the worldwide pandemic and economic recession.
With this agreement, the faculty will reduce their salary pool on a temporary basis for 2020-2021. Salary reductions will be progressive, with larger percent and real dollar cuts for senior faculty with higher salaries in order to protect the salaries of junior faculty members, visiting faculty members, and faculty associates. The faculty and administration also came to terms on a Voluntary Separation Plan that, among its provisions, allows separating faculty members to retain their affiliation with Hampshire. Together, these voluntary measures will bring academic expenses in line with a smaller projected student enrollment in terms that are fair and humane. The agreement also includes commitments by the College to reduce the salaries of senior administrators to protect resources for faculty research and professional development, manage faculty workload, improve conditions for contingent faculty, and prioritize assessing and addressing the impact of the de-diversification on the College. On Saturday, May 23, the faculty voted overwhelmingly in favor of the agreement.

"Our experience demonstrates that, with shared commitment to mission, transparency about financial information, an openness to creativity and experimentation, and a willingness to approach shared problems in good faith, faculty and administration can work together in circumstances where resources are genuinely scarce and ideal outcomes are impossible," commented President Ed Wingenbach. Wingenbach took a 50% reduction in pay for 2020-2021.

Adopting voluntary salary reductions allows more faculty to remain at Hampshire, ensuring they can continue the vital work of delivering the College's unique program. This marks the second year in which the faculty have taken such measures, explains Dr. Jennifer Bajorek, associate professor of comparative literature and visual studies and a member of the negotiating team. "We were already acting collectively to save jobs and avoid layoffs before the pandemic. We have now taken this effort even further, coming together to shoulder the burden of reductions collectively across the entire faculty and to distribute them as fairly as possible at a very challenging time."
 
While faculty approved the agreement, it comes with real costs. Many professors who will be teaching and advising at Hampshire will be doing so at reduced pay. Faculty of color and international faculty rightly called attention to the numbers of faculty and staff of color who have left Hampshire, pointing to the disproportionate burden that both departures and salary reductions pose to those who have been marginalized and underrepresented at Hampshire. The negative impacts of the budget crisis have also extended to Hampshire's staff, who are stretched thin after multiple years of staff and budget reductions.
 
"The experimenting nature of the college, its social justice legacies, and the ability to teach in deeply interdisciplinary, collaborative ways—these are the qualities that make us love working at Hampshire College. But the faculty need working conditions that allow us to do our work," said Dr. Michele Hardesty, associate professor of U.S. literatures and cultural studies, an officer of AAUP-HC, and member of its negotiating team. "With this agreement, the faculty again makes concessions that support the academic mission of the college, and we look forward to working with the administration to implement a concrete plan for workload equity."
 
Hampshire is proving that a small college without a substantial endowment can use a shared governance approach and a firm commitment to its academic mission to address difficult resource challenges. With this agreement, college administrators and faculty members made concessions and gave up critical resources, all while centering the best interests of students, in order to secure the College's capacity to continue operating during this period of crisis. Their actions reaffirm Hampshire's long-standing reputation as a leading innovator in higher education.
###
The mission of Hampshire College is to foster a lifelong passion for learning, inquiry, and ethical citizenship that inspires students to contribute to knowledge, justice, and positive change in the world and, by doing so, to transform higher education.
 
Founded in 2018, Hampshire College's advocacy chapter of the American Association of University Professors (AAUP-HC) champions academic freedom; advances shared governance; and organizes to promote economic security for all academic professionals, in line with the mission of the national organization. In accordance with AAUP's One Faculty campaign, AAUP-HC recognizes within its mandate non-administrative faculty across rank and category, including ten-year-track faculty, faculty associates, visiting faculty, and adjunct faculty.
 
The American Association of University Professors (AAUP) comprises over 50,000 members and 500 local chapters. Since 1915, the AAUP has shaped American higher education by developing standards and procedures that uphold quality education.
1