Culture, Brain, and Development Program Announces Latest Student Grant Awards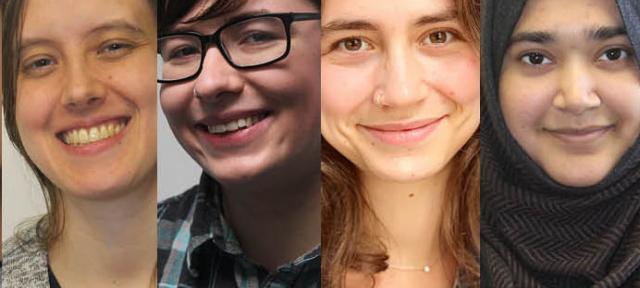 The Culture, Brain, and Development (CBD) Program has awarded $13,600 to students in its fall grant cycle. The funds will support the research of 11 Hampshire students working across disciplines at the College. Their projects range from interpreting whale vocalization to understanding how immigration may impact family structures.
CBD's competitive awards are offered twice a year and provide critical financial support for students who are conducting in-depth research and ambitious projects. The grants cover costs related to field study and other travel, film and visual arts supplies, participant studies, lab research, and other key expenses.
The program was founded in 2003 by two Hampshire professors with support from Hampshire alum Dr. Rob Lemelson 79F. CBD is an innovative interdisciplinary program that encourages faculty and students across all disciplines at the College to bridge intellectual divides by incorporating psychobiological and sociocultural perspectives into their research and teaching/learning. Since its inception in 2003 CBD has awarded grants to hundreds of students in support of interdisciplinary projects and internships.
The ability to recognize and critically examine connections and intersections across disciplines has been of great use working as a biomedical researcher since graduating. I have also drawn on the manner of thinking cultivated by CBD countless times throughout my application process for medical school, as I have frequently been asked in essays and interviews to synthesize the connections between social issues, science, and medicine.
Aaron Lindeke-Myers 12F (CBD Grantee & Student Group Leader)
The following students received CBD fall 2019 awards:
Nina Barker, Division III Project
Telenovela Consumption in the Brazilian Diaspora
Nina will explore the connection between media consumption and diasporic identity through research and interviews with members of the U.S. Brazilian community who watch Brazilian telenovelas.
Connor Dodge, Division II Internship
Exploring the Relationship between Tattooing, Healing & Trauma
Connor will pursue a tattoo apprenticeship in order to investigate how tattooing may moderate harm reduction and trauma.
Urooba Ahmed Fatima, Division III Project
Menstrual Equity: The Road to an Equal World
Through a case study in Pakistan, Urooba will seek to demonstrate how affordable and open access to menstrual products is key to education equity and gender equity for girls and women.
Kelly Gurung, Division III Project
Lived Experiences of Nepali Domestic Workers in the U.S.
Kelly will undertake a research project to ascertain how migration impacts women's lives; in particular, if it leads to the development of non-traditional family structures in Nepali working women's families in the U.S.
Aamari Green, Division III Project
Black Queer Becoming: A Choreopoem
Through the medium of dance, Aamari will look at identity, cultural norms, and socialized gender roles, and how they are expressed (or repressed) in the body through gestures and mannerisms.
Julia Hahn, Division III Project
We Keep Going: Resilience, Self-Regulation & Self-Concept
Julia's research study will explore resilience, methods of self-regulation, and self-concept in people ages 18–22, and look at how self-regulation and coping mechanisms may parallel muscle memory.
Veronica Israel, Division III Project
Tracking Trauma in Haitian History
Veronica will research the passing down of trauma in Haitian history, how those experiences may manifest physically, and how dance might help heal trauma held in the body.
Mira Malcolm, Division III Project
Herstory
Mira will look at how our culture's negative relationship to femininity impacts our nervous systems and develop mind-body practices to address those impacts and create more ease.
Alek Meyer, Division III Project
Chest-Binding Health Assessment
Alek will conduct a mixed-methods research study on the health effects of chest binding with the goal of developing preliminary health guidelines and harm-reduction strategies.
Aurora Pearson, Division III Project
Beluga Whale Spontaneous Vocal Mimicry
Aurora will attempt to test the spontaneous vocal mimicry abilities of beluga whales and complete a comprehensive categorization of their baseline vocal repertoire, in order to understand more about language learning and evolution in humans.
Quinn Thomashow, Division III Project
The Whole is Greater Than the Sum of its Parts
Quinn will conduct fieldwork across the U.S. and create a film that explores how film and music engage with memory, cognition, synthesis, and autobiography.
The CBD program will offer another round of student funding in the spring. For deadlines and more information about the Student Research Endowment Fund or the CBD program at Hampshire, contact us at cbd@hampshire.edu or 413.559.5730.
1