Dance Dept. Presents 'AGAIN: Moving Into a Movement'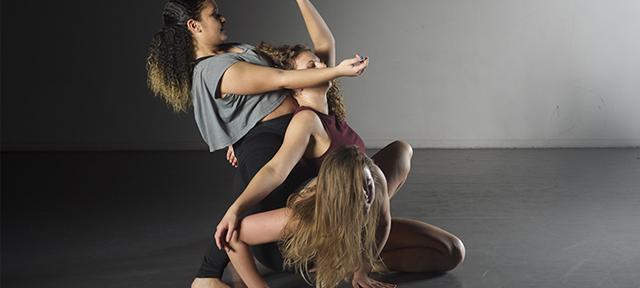 The Hampshire College Dance Department presents an evening of dance featuring the culminating Division III works of graduating students Narieka Masla, Rikkia Pereira, and Julia Warren, performed by Five College students and other members of the community. AGAIN: Moving into a Movement expresses the embodied research of loss, relationship, and self.
Performances will be Thursday, April 6 through Saturday, April 8, at 8:00 p.m. in the Hampshire College, Main Dance Studio Theater.
ReMembering the Body, by Rikkia Pereira, is a personal narrative that addresses the importance of community, storytelling, dance, art, and validating the body in a process of healing and transformation.
Branches of, choreographed by Julia Warren, illustrates loss through movement and connection.
What Color Is Your Nose? is a performance piece created by Narieka Masla to inspire connection. Through movement and red nose clown, questions are asked about relationship, identity, vulnerability, empathy, connection, and transparency.
For reservations, call 413.559.5889 or e-mail hampdancereservations@gmail.com. General admission: $5; students and seniors: $3
For more information contact Professor Deborah Goffe dgoffe@hampshire.edu.
1