DEAFinitions Conference Draws Hundreds to Celebrate Deaf Culture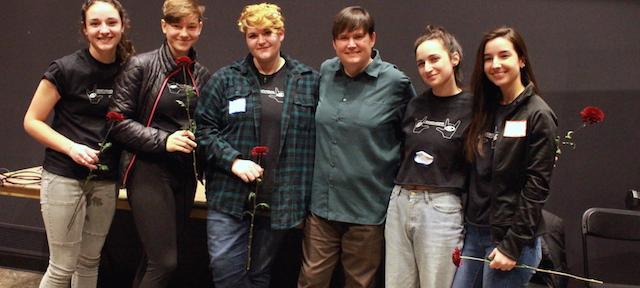 Over 250 attendees flocked to Hampshire College's third annual Deaf Studies Conference, DEAFintions, the weekend of March 24-25, to celebrate and learn about Deaf culture.
The event has become important to the Deaf community in Western Massachusetts and beyond. "Deaf people often feel like they live in isolation. They become invisible as a minority because d/Deafness is not easy to see," Associate Professor of American Sign Language Dana Hoover explains. "Here, they can be seen."
In its third year, the goals established by the event founders have not wavered: 1) to provide a platform for Deaf individuals to come together in the exchange of knowledge, 2) to build bridges between the Deaf and hearing communities, and 3) to raise awareness for the need for more sign language resources through ASL and Deaf Studies courses at the Five Colleges (and beyond). These goals remain the backbone of the project despite the conference changing hands.
In the 2015-2016 academic year, Googie Daniels (12F) co-founded the DEAFintions Conference as part of her Division III project. Though Daniels returned for DEAFintions this year, she acknowledges that her role at this point is minimal, as the conference has continued due to the efforts of other student organizers and members of the ASL Collective including Julia Kersten, Brianna Deane, Sophia Breitag, Kathryn Tweedie, and Oneda Lalaj, as well as many local advisors and sponsors.
"When I started DEAFinitions, the intention was to have a space where Deaf people could really be celebrated: their history, their culture, their research, their art; and then, for hearing people to come into it from whatever avenue of intersection they wanted to," Daniels says.
"It is really important that the conference is moving forward and adapting and changing. What is important in a community is going to shift overtime. Since the student organizers here are actually interacting with the community, they have a better sense of these directions and goals," she adds.
Keynote speaker, Adrian Foote, presented on Black Deaf History and activism, encouraging young Black Deaf people to begin stepping up as leaders in their community. Foote himself is the president of the New Jersey chapter of Black Deaf Advocates.
"The organizers are really working to keep the topics at the conference fresh," Daniels continues. "They are actively looking for ways to bring people in who are not necessarily from the region so that Deaf people from the area are getting exposed to people they've never met."
Other presentations included a panel discussion on Deaf/hearing relationships, American Sign Language 101, a meditation course, artists' talks, performance art, Climb and Sign, and more. These activities bridge the gap between Deaf culture and other fields of study, and help foster awareness and support between the Deaf and hearing communities.
In order to be all-inclusive in their efforts, DEAFintions offered full-accessibility services including American Sign Language (ASL) and Signing Exact English (SEE) interpreting teams, remote captioning services, and deaf/blind interpreters.
"It seems that everyone is together longer [this year], in the same room, talking and signing," Daniels notes. "That really builds community among the people who are attending the conference, which is great because that's kind of the whole point."
Photos provided by the Deaf Studies Conference
1