Div II Student Examines Issues of Reproductive Justice Through Spacial Design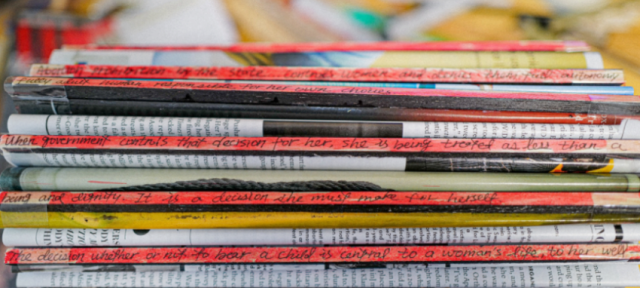 For her Div II, student Phoebe Chen F22 is exploring art and architecture in combination with history and storytelling. Last semester, she designed a pavilion that would provoke engagement with the topic of reproductive justice in the United States.
"I wanted to imagine spaces that invite people in, present facts, and encourage conversations," she says. In the course From Choice to Justice: The Politics of the Abortion Debate, Phoebe Chen F22's final project imagined a space for people to the politics of abortion and its history in America. The class, taught last fall by Collective Power's Deputy Director Marisa Pizii and Greer Hamilton, explores the ethical, political, and legal dimensions of abortion rights and investigates anti-abortion organizing and its resistance from reproductive-justice movements.
The initial focal point of Phoebe's reproductive justice pavilion design is the red and white stripes. In addition to capturing people's visual attention, the colors evoke the American flag. Inspired by the use of color in The Handmaid's Tale, by Margaret Atwood — red for fertility and white for the "wings" on hoods used to prevent women from seeing one another — these colors also connote the unjust way society manipulates, controls, and suppresses women, which is at the center of what Phoebe's piece tries to interrogate.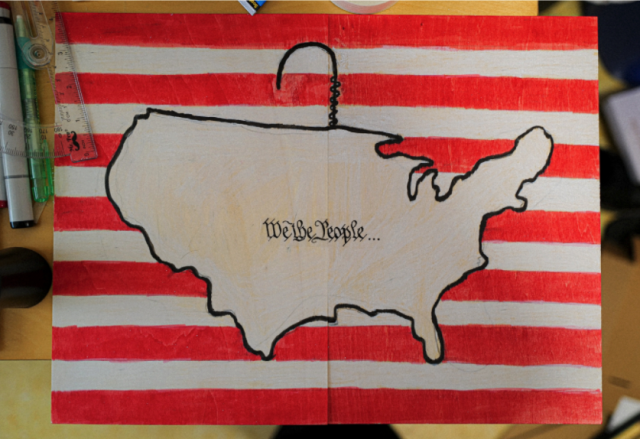 In her design, the middle of the pavilion floor is the shape of the United States configurated by a coat hanger. Written in the center is "We the people" and circling the map are presentations of nine landmark cases, among them Griswold v. Connecticut (1965), Roe v. Wade (1973), Planned Parenthood v. Casey (1992), Ferguson v. City of Charleston (2001), and Dobbs v. Jackson (2022). 
"The Constitution of the United States never explicitly includes abortion rights or reproductive freedom," Phoebe writes in her final paper. "Courts' opinions of precedence then become the systems of rules that inform and determine future courts' rulings in the U.S. Common Law system. Therefore, it's critical to use historical cases to understand the legal debate surrounding abortion and reproductive politics. Presenting cases in circles echoes the idea that every legal case could potentially impact society's evolution and influence people's lives."
Phoebe's approach to the project was heavily inspired by the acclaimed art director George Lois's "cultural provocateur" philosophy: the idea that one should use creativity to change the world. For Phoebe, the pavilion is more than a reproduction of legal facts or a mirror of current social problems. Rather, she says, "it's about creating an experience where people collaborate with the space to interrogate social issues and imagine what justice should look like in a healthy society."
Translating ideas into a model served as a powerful tool for Phoebe in understanding that adding space and time to a seemingly purely artistic vision could create a social presence to engage with people, emotions, and stories.
A transfer student from Tulane University, Phoebe started Hampshire in fall 2022. "It's one of the most rewarding decisions I've made so far," she says. "The Hampshire community and its entrepreneurial spirits empower me to design my own studies and curate my interests."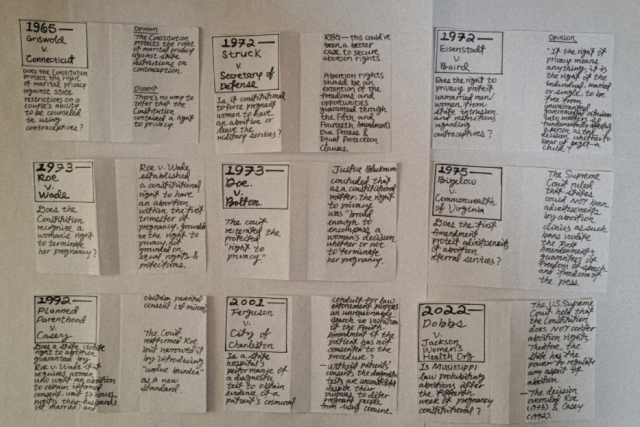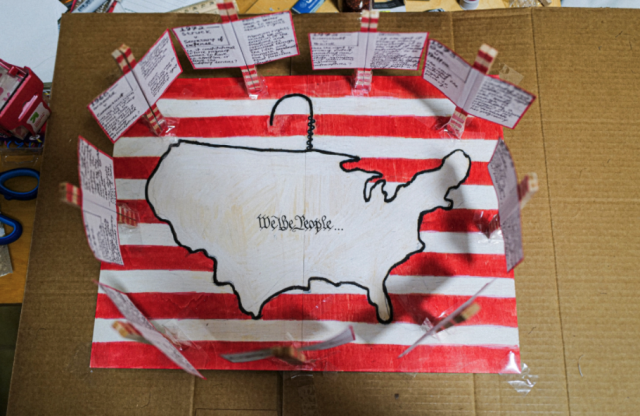 1