Hampshire's Center for Design Helps Launch Array of Projects and Career Paths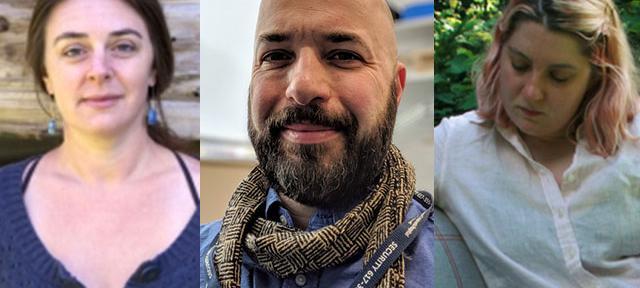 Hampshire's Center for Design (C4D), inspired by and funded for many years through the Jerome and Dorothy Lemelson Foundation, is a unique laboratory for exploring design and fabrication projects. In this makerspace, students have created projects ranging from Beowulf-inspired swords to hydroponic growing systems.
The Center for Design is a space for the kind of creative integration and problem-solving at the heart of a Hampshire College education.
Noah Schulz 96F
Many Hampshire alums have taken skills they learned in the C4D and gone on to apply them to work in the arts, sciences, and other fields. The facility's wide ranging capabilities include machining, welding, sewing, sheet-metal work, electronics, plastics thermoforming, jewelry, wrought-iron work, blacksmithing, glasswork, general mechanics,  plasma cutting, 3D printing, and computer-aided design.
Whether it's through a course, a student group, an independent project, or shop therapy, no experience is necessary and all pursuits are welcome. Staff members are available to help with specific projects and assist on design issues, teach work safety, give instruction on equipment, and provide ongoing assistance and supervision.
Three alums reflected on their student projects and the impact that having access to the center's workshop, mentors, and materials ultimately had on their careers and journeys as creators.
Caitlin Ezell Waugh O1F
Paraph Studio owner Caitlin Ezell Waugh 01F is a full-time mixed-media sculptor drawn to glass, metal, and plant material. Her Div III thesis project was an investigation into the state and evolution of health-care access in Venezuela. The result was a book of short nonfiction stories from her time in the country that she illustrated through a gallery show. Ezell Waugh has shown in many group gallery shows, collaborated in immersive art "events," and created hundreds of works for private collections.

"Both my Div II and my Div III incorporated an exploration of three-dimensional stained-glass design," Ezell Waugh says. "I continue to work with themes of dis-ease in my sculptural mirror work. I've developed a technique of kiln-fusing plants in glass that I use to explore the relationships between humans and plants in ceremony, medicine, and memory. My recent research of abortifacient plant use reminds me of my Div III research, particularly in navigating what information is readily available and promoted versus what knowledge is protected.

"The number-one regret I've heard my Hampshire friends repeat is that they didn't take proper advantage of the Lemelson Center [where the C4D is housed]. I am so grateful that I did. In the shop, I learned fabrication, design, and problem-solving skills, as well as crucial safety and organizational habits from shop supervisors Don Depuis and Glenn Armitage 81F, and my peers that continue to inform my daily practice. The C4D nurtured my curiosity in practical ways that led to high standards and durability in my work, and to confidence with materials I would not have experimented with outside an institution.
"Although I appreciate all of my art education at Hampshire, it was the C4D that made a career in the arts feasible, through acquired skills and by connections to conferences and job opportunities after graduation that specifically addressed how to run an art business. I think fondly of inspired late nights with incredibly talented friends and I treasure a jewelry box Don made me for graduation."
Noah Schulz 96F
Noah Schulz 96F is a senior engineer in the department of cardiac surgery at Boston Children's Hospital. He started working in its simulator program, building 3D-printed anatomical models of patients and medical devices, and moved to the cardiac surgery department a few years ago to focus on digital modeling and simulation of the heart center's patients.

"This work is a natural extension of much of the work that I did at Hampshire, from photography to industrial design and machining to my time as an EMT," Schulz says. "Broadly speaking, my job is to find creative uses for patient medical imaging to help surgeons to plan patient-specific surgical procedures. We're using engineering approaches to help inform surgical decision-making and allow for better and more predictable outcomes for children with complex congenital defects.
"At Hampshire's C4D, I spent a lot of time thinking about adaptive and universal design. I found that these design principles are an excellent platform for learning creative engineering and design, as the problems are very real, and the solutions can be both simple and profoundly effective.
"At the end of my Div II, I spent a semester interning at Boston Children's Hospital's Communication Enhancement Center, where I tried to use these principles in practice to build adaptive tools for kids with neuromotor disabilities. Getting to see the challenges these patients and their families faced was a large source of inspiration for my Div III project —designing and building an adaptive tandem tricycle to offer people of all physical abilities the experience of cycling.
"I discovered at the C4D that my passion for making things could be applied to real-world problems, and it changed the course of my education at Hampshire and my life. The time I spent brainstorming and problem-solving in the Lemelson Center has proved to be incredibly valuable when bringing my team of engineers and clinicians together to find new approaches to these challenging medical problems."
Haviland "Hallie" Justice 10F
Hallie Justice 10F, with Oliver Reams 10F, runs a business called Made Cozy. "We design, make, and sell furniture and smaller household objects that are built to last and have a timeless yet playful aesthetic," she says.

Justice's Div II was "Design with a Sustainable Lens," for which she took classes at the C4D that concentrated on the business aspect of making things, as well as classes in basic shop skills, so she could be comfortable prototyping projects in the metal shop.
"I was able to experience a wide variety of projects there, from a class taught by Associate Professor of Applied Design Donna Cohn that focused on building a portable gynecological exam table for Doctors Without Borders to an independent study with Oliver where we built a couch shaped like a kangaroo," Justice says. "This led into my Div III, an interactive furniture exhibit where I built and staged a line of furniture inspired by childhood toys.

"I would tell prospective students to try everything and to ask questions! I walked into the C4D my first year with a very basic understanding of how to use a screwdriver and had no idea how useful I would find many of the tools in there until I started using them. Get comfortable using every machine you can so you can then learn how to be creative with them."
1