Div III Profile: Isaiah Mann, GlowLime Games, and Defender's Light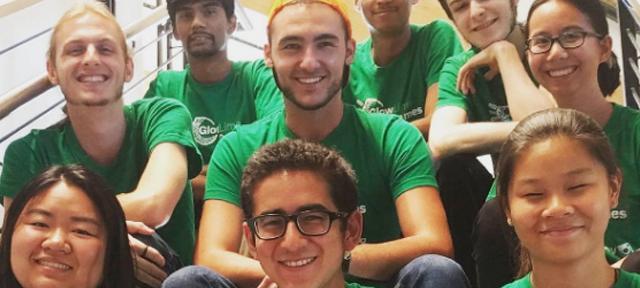 This month, as Isaiah Mann graduates from Hampshire, he's leaving a legacy beyond his academic work. Mann is one of several cofounders of GlowLime games, a collective that enables Five College students to design and create video games. 
Establishing GlowLime games with an extensive business model and pitch documents means the organization will continue to provide an outlet for aspiring Five College gamers for years to come. Mann recently handed over his responsibilities as GlowLime's executive director to third-year student Joel Esquilin, fulfilling his initial goal to build a sustained operation that would thrive long after he left the College.
"The goal of GlowLime," Mann says, "has always been to promote strong student leadership in the community."
Using the organization's impressive network of Five College student designers and programmers, Mann and his team of 20 published Defender's Light, a "tower defense" game available on Google Play and the App Store.
RELATED: Hampshire Named Sixth-Best School for Game Design 
In Defender's Light, the objective is to defend an orb of light as increasingly strong enemies attack. Mann notes the use of light to expand players' range of view (and their defended area) as a unique aspect of gameplay. The team wrapped up the project in December 2016, and have received universally positive feedback ever since.
Before his Division III, Mann worked with Professors Chris Perry and Ira Fay and a team of 30 to complete Word Snack, a one-player digital word game. Mann was also a member of the class-wide collaboration in Visiting Professor Pat King's class to produce the "point-and-tap" adventure game Pirate Squabbles; both games are available on Google Play and the App Store.
The peer-to-peer collaboration in game design has been a cornerstone of Mann's Hampshire experience. He characterizes designing Defender's Light as occasionally difficult, working with a variety of skill sets and temperaments, but ultimately rewarding. "Even when it's challenging, you still get exposed to a lot of different styles and build collaborative skills," he says. "Having the opportunity to work with other talented game developers, project managers, and artists in the area is far more valuable than any other part of the experience."
As project manager, Mann worked primarily with the program Unity, writing in C# language. The team of artists, audio designers, and writers used a variety of programs, such as Adobe Suite, Maya, and Audacity. For project management, the team used Google Drive, Slack for communication, Trello/Asana for task tracking, and GitHub for version control and code sharing.
Mann intended to study theater and playwriting; he even cofounded a still-existing improv troupe, The Cutest Little Freaks in the Universe. After taking Professor Ira Fay's Game Design class, during his first year, however, his interests shifted to programming. "The Divisional system here is really well designed. At a typical school, I would have taken only the standard courses," Mann says. "Here, I got an early exposure to a wide range of ideas, including game design."
The College's flexible and independent education model gave Mann the chance to cofound not one but two organizations that are still in existence. "Hampshire encourages students to take on bold, pioneering ventures," he says. "It provides the resources and support necessary to start groups, and provides the literal and metaphorical spaces for them to exist."
Professors Ira Fay and Jaime Davila formed Mann's Div committee. Although they had a hands-off attitude toward his studies, he says, they were perpetually available as a valuable resource. "I wasn't being monitored or supervised," he says. "That approach lends itself well to translate in a professional setting. There was a measure of independence and agency that is unparalleled."
Mann is parlaying his programming background into a position as a software engineer at Amazon, which starts this summer. He says he sees it as an opportunity to accrue experience in the private sector before founding a start-up in the vein of GlowLime.
Mann documented his Division III project work here.
1