Div III Profile: Project Partners Design Natural Haircare Product Venture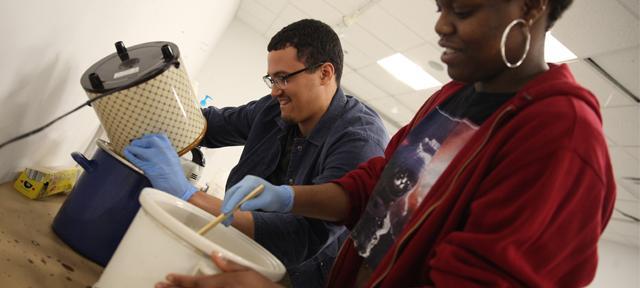 "Have you ever read the back of your shampoo bottle, and struggled to figure out what those ingredients really are?" This is the dilemma Mae Fuller says informed her Division III capstone project, a collaboration with fellow student Samy Schrade. The two are in the process of launching lymph + honey, a natural hair and body care LLC debuting products in stores this November.
Fuller started creating her own haircare products because her skin is sensitive to chemicals. "I have multiple chemical sensitivities—super sensitive skin and hair, so I can't use most products," Fuller says. "I'd go to the store prepared to spend my whole paycheck, and buy something that's supposed to be super organic and natural, but they snuck some sort of preservative in there. So I started making my own." 
Schrade became interested as well, believing that more people should have access to healthy hair and body car products. The two started discussing a venture while they were studying abroad together in Germany through Hampshire's Global Education Office. "I noticed there wasn't an infrastructure for hair products black folks could use in Germany," Schrade says. "It hadn't caught up with the need." Fuller recalls regularly spending a day traveling by train to get the products needed for her custom mixes. 
So they decided to start a venture where they would mass-produce their custom creations. 
Professors Jutta Sperling, Naya Gabriel, and Donna Cohn made up the pair's Division III Committee. Completing their project (which included writing and creating a 90-page Div III portfolio) and collaborating with their committee provided them with valuable preparation for launching their business.  "Things are open-ended at Hampshire, so you have guidance, but it's really up to you to forge that path," Fuller says. "A business isn't really different. Hampshire helped us understand how to make a plan, manage your time, and follow your ideas through. I don't think we'd be doing this right now if we didn't go to college here."
After graduation, Schrade and Fuller participated in the Valley Venture Mentors Collegiate Accelerator program, a Springfield-based nonprofit supporting entrepreneurs in Western Massachusetts. lymph + honey tied for first place in the program's competition, taking home $6,000 for their burgeoning business, money they are putting toward a new office space in Holyoke where they are manufacturing their first public product run.
Fuller and Shrade's first product is simply called "The Butter."  Made from cocoa butter, pumpkinseed oil, tamanu oil, grapeseed oil, and shea butter, the butter has multiple uses for a range of people. "If your hair is very fine,  it would work as a deep conditioning treatment to add to your existing conditioner," she says. "For me, I can use it as a leave-in conditioner, because my hair is very thick. It works for everyone with different applications—it's especially great for braids, twists, and cornrows."
The pair designed The Butter's packaging with sustainability in mind, with compostable boxes housing product in containers that consumers can reuse or send back to the company for recycling. "We see sustainability as synonymous with beauty," Schrade says. "Something that is sustainable is beautiful."
"I feel lucky. I just turned 22, and I know what my dream is, and now I'm working on it," Fuller says.